Submitted by John Garratt on February 27, 2019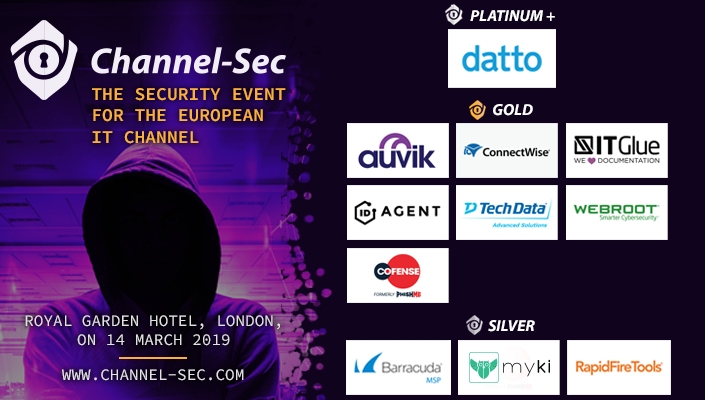 Security is the key to a lot of channel sales. While it can open a few more doors, it is increasingly the case that any solution has to have a security component, especially those with a managed services component. This lies behind the move by ConnectWise this week to reinvent itself as a platform around cybersecurity, and to raise the funds it needs to do this, it has sold itself to venture capital for an estimated $1.5bn.
And with the anticipated growth of the cloud from $272bn in 2018 to $620bn by 2023, according to the latest research, a security boost is inevitable. But here are still plenty of questions as to how technology is made secure, and by whom. Any reseller, integrator, ISV or service provider will be being asked about these issues by customers and potential customers.
Channel-Sec is a unique event which aims to help partners of all types understand the changing face of security; it has been supported by many of the key names in security with the main message being education of the channel. The sponsors of the London event on March 14th are Datto, Webroot, IT Glue, ConnectWise, Auvik Networks, ID Agent, Tech Data, Cofense, Barracuda MSP, Myki, RapidFire Tools and Continuum.
Channel partners have already confirmed attendance in large numbers, but as an added incentive, all those attending get a pre-release copy of a new book on blockchain by one of the speakers, Igor Pejic of BNP Paribas. This book is an authoritative guide to how blockchain is becoming part of the mainstream and essential reading for any channel partner whose customers are starting to ask about this technology.
As the first keynote, Channel-Sec has secured the services of one of the experts on the Dark Web, Jamie Bartlett, blogger for The Telegraph and author of books delving into the dark side of the Internet. When your customers ask about threats, after his presentation you will be able to knowledgably indicate the scale and nature of the threats and what the bad guys are after.
Another important keynote comes from techUK's Talal Rajab, talking about the UK's stance on cybersecurity and what help is available to channels and their customers.
All this, plus speakers from some of the technology companies present, make this an essential event for anyone involved in channel security, anyone wanting answers to customer questions, and anyone planning strategies for technology adoption in future. More details and registration here:  
It is co-located with the European IT and Software Awards in the evening, where hundreds of finalists will gather at a gala dinner to discover the winners in over forty different categories. www.iteawards.com