Submitted by John Garratt on January 21, 2020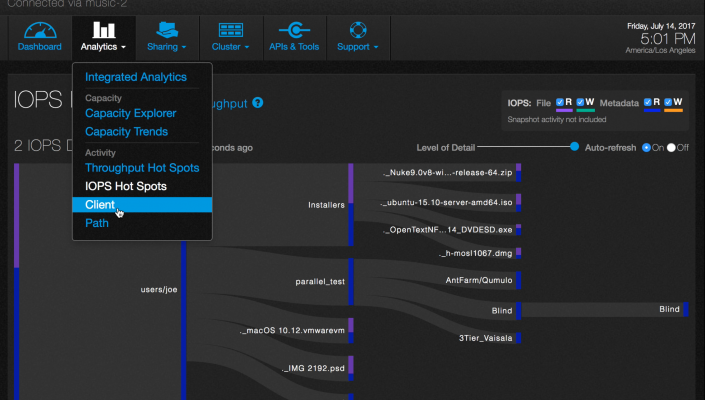 Global Distribution, a distributor focused on the media and entertainment (M&E) markets, has added Qumulo's Scale-Across NAS file and hybrid cloud file storage solution to its portfolio. Qumulo brings the first Scale-Across NAS solution to Global Distribution's enterprise portfolio and provides its channel with expanded options to meet the challenges of M&E workflows, it says.
"Qumulo's hybrid file software meets the demands of today's data-driven media and entertainment organisations for massive content production and storage.  Qumulo provides a modern infrastructure that can handle the toughest 4K, Rendering and VFX workloads, with limitless scalability on-prem or in the cloud," said Molly Presley, Qumulo's head of global product marketing. "Our partnership with Global Distribution allows us to accelerate our strong momentum within the M&E market while providing easy access and availability of Qumulo's NAS file systems to more users and resellers around the globe."
Qumulo aims to provide cloud-native, enterprise-proven file storage with real-time visibility, scale, and control of file data that scales across on-prem, hybrid and cloud environments. Qumulo claims customers among Fortune 500 companies, large video surveillance and security organizations, major film and animation studios, and some of the largest research facilities in the world.
"We are excited to add Qumulo's high-performance storage solutions to our enterprise portfolio of class-leading technologies and solutions," said Nick Warburton, WW Director of Enterprise Storage at Global Distribution. "Qumulo's Scale-Across NAS and hybrid cloud file storage solutions will allow our partners to deliver truly modern storage solutions to their customers and enable them to meet the ever more taxing needs of M&E applications.​ Qumulo is available immediately from Global Distribution, and the company says it has technical experts fully-trained on Qumulo, available to assist with service and support.