Submitted by John Garratt on May 22, 2018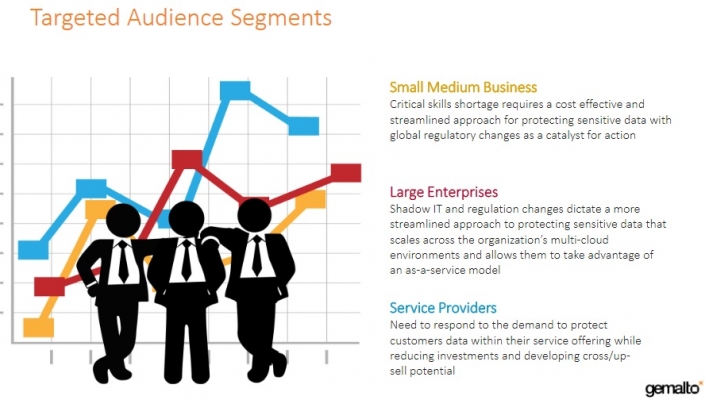 Security vendor Gemalto is hoping to sign up around 100 more MSPs and MSSPs (Managed Security Service Providers) in the coming year, as it offers "data protection on demand"- a cloud-based package for enterprises.
Gary Marsden, Senior Director, tells IT Europa that he expects good traction, based on the white label approach for services providers. "The market has changed, both among the end-user customers and channels. We are finding that it can't be talked to in the same way as before."
Data protection on demand takes a different approach, he says – it is akin to an appstore.
"Channels looking to offer such solutions are not yet fully encryption and key-management aware, so as we get into the market, we need to simplify things, he says. Data protection itself needs to change in order the meet compliance, but enterprises don't have the skills. Almost 60% of the decisions taken in the customer are now taken by shadow IT – by line managers, devops guys, unit owners and app owners who can buy in what services they need, but in this, the security aspect can get forgotten."
Gemalto's SafeNet Data Protection on Demand (SafeNet DPoD) is a centralised cloud-based platform allowing companies to protect data, meet compliance mandates and manage the security of all their information in every location. "To get it to market, we need to look for a slightly different channel because as it sells cloud services, it requires a new approach looking at billing models, sales processes and going to market with SLAs. This is not the old tactical model selling product."
The product has to be easy to use, and taken in through a new channel type - the MSP/MSSP market, he says. "That is what we are aiming for, with a more service-focused channel. We have to talk to both the channel in transition where the recurring revenue model is new, and the new born- in-the-cloud or managed services channel resellers where we already have some notable partners with NTT."
The Gemalto partner programme will have a new MSSP stream and its sales content will move from talking technology to addressing partner benefits. 
"There is a lot of interest in the channel – we have good coverage with distribution and that will give us the platform for growth to find a mix of MSPs, MSSPs and channel in transition. And it is their brand in front of the customer – the white labelling is very important and our new pricing model also removes any list price, just a net buy price, which seems to be the way cloud services are moving."
It puts the channel in control of margins and pricing. With channels bundling these services, the list price becomes less important, he says.
There is no doubt that this is a hot market – encryption and key management are in demand, he says. The managed services model gives the channel stickiness, services can be easily added.
"That also makes it easy as an MSP to cross-sell and upsell. That is going to be a core item for any MSP looking at this market. It makes it easy for them to sell. And we will be putting a lot into marketing and sales support to help them into the market."
"We've already been selling this in Europe and America – there is no particular vertical market sweet spot - it covers the market from SMB to major enterprises. It is the ability to provide encryption and key management in an agnostic way what is proving as the main sales driver."
It can offer encrypted data in Salesforce or Office365 or any IaaS offering, but the enterprises are really interested in providing a unified security policy management tool – a way of retaining control without being reliant on the SaaS or IaaS provider because they have to audit them and prove control, he says. "They can't do that with multiple providers but this allows data protection compliance in a consolidated way across multiple platforms."