Submitted by John Garratt on July 9, 2020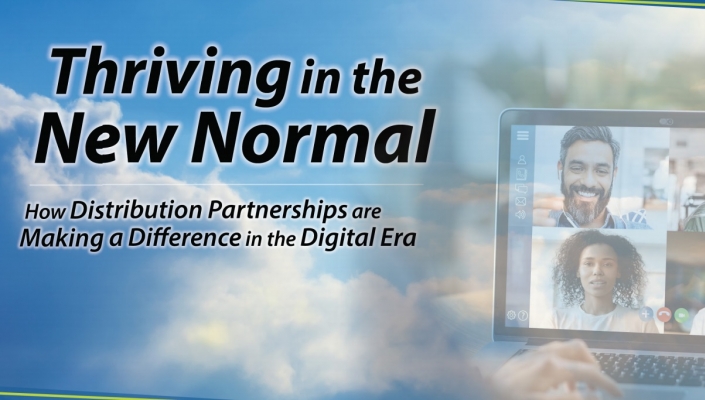 Hear GTDC CEO Frank Vitagliano's optimism on the high level of distributor engagement in the new technologies in this two minute MP3
Latest figures on channel sales through distribution show that business has recovered strongly and could push 2020 to being a record year for revenues. Though heavily distorted by crisis-driven changes in products in demand and the rush to remote working, there has been a strong recovery in activity levels, says the Global Technology Distribution Council (GTDC).
And the pattern of sales is set to continue to evolve. In a key three-month study conducted from March through May 2020, coinciding with work-at-home initiatives and other industry dynamics it points to a service-driven business and new future areas of activity.
Among the findings, distributors and their partners experienced rapid year-over-year growth in cloud business as the year began – and unfolded with additional surges in related demand as small and mid-size businesses began implementing work-from-home initiatives. Those and other dynamics coincided with the development of the GTDC study, Thriving in the New Normal, with corresponding interviews conducted over a three-month period from March 1 to May 31, 2020.
GTDC CEO Frank Vitagliano, talking to IT Europa says: "Business solutions are more complex than ever, and no one manages that complexity better than distributors; they are breaking into promising new industry dimensions beyond the cloud, including IoT, XaaS, mobility, security, analytics, machine learning…."
The solution providers who have moved to providing managed services in a recurring revenue model are weathering the storm much better than those still relying on one-time product purchase, he says. This will continue and mean that services will become a much bigger part of the business. All are trying to introduce some sort of managed service. Because of that, the distributors are morphing their model to support that.
In the report, it is clear that one of the things many distributors are doing is supporting channels who move to recurring revenue models financially, he says.
The report provides sharp focus on how distributors, their vendor partnerships and digital services are evolving in the cloud era. "The insights are especially timely in that all the interviews and analysis occurred as new virtual directions took off with utmost urgency this year. Distributors responded swiftly and deftly in a manner that underscores both traditional reliability and advantages as well as progressive new business models in full force," it says.
In Europe, business in distribution is very strong says Peter van den Berg, GTDC European and APAC general manager. "It is in every category, particularly notebooks and mobile. If this trend continues, it will be a record year – and with 5.2% growth after five months, it looks like this will happen."
The EU general economy seems to be picking up and Europe is in a different state to the US, he says. "We are getting through this quite well but let's see what September/October brings".
At a global level, the industry's key message is that IT will continue to grow and be significant. Frank Vitagliano: "There will be impacts and effects on different categories. Traditional big data centre investments slowed and work from home surged. I'm optimistic on the value that distributors can provide. They have invested and built all the core elements to work in the traditional way. Now, on top of that operational excellence, they are making major investments in digital areas. Those will absolutely provide them with the ability to be significant in how products and services get to market – even more so with the changes that are coming in services.
"The timing is good for them in spite of one or two quarters up and down. I'm very optimistic about the future."
In particular future complexity will play to the distributors'' strengths, the report says: distributors are particularly adept at helping the technology advisers that cater to end customers with product selection and integration, pricing, deal financing, technology support and other factors that are critical to solutions integration. Today distributor marketplaces boast hundreds of applications and options. In the future, they will likely offer thousands, it says.
And distribution channels will be involved in all parts of the economy: small and mid-size businesses have been investing heavily in digital innovation, which bodes well for distributors, vendors and solution providers as the channel serves this market well.