Submitted by John Garratt on March 5, 2019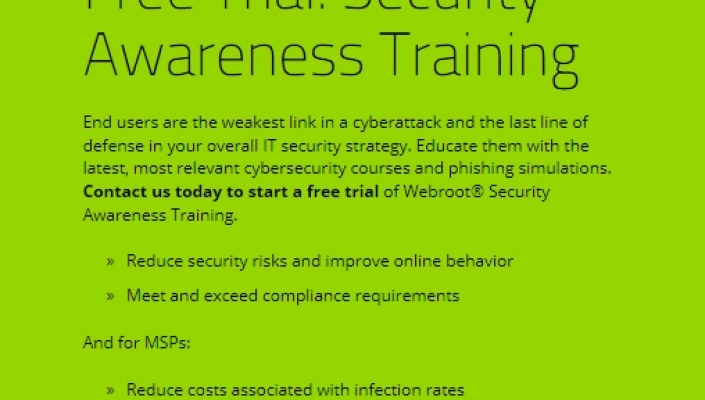 Webroot is boosting its Security Awareness Training with expanded content and micro-learning – a ten minute maximum involvement. Recent research into the UK FTSE 350 found that while most had a cybersecurity strategy in place, understanding of the losses following a cyberattack was low. Only 16% had a comprehensive understanding at board level.
MSPs in particular need implement customer training that is effective and suits employee learning styles and retention, it says. Starting early April, Webroot® Security Awareness Training will allow administrators to launch global campaigns across one or all clients in a single click. Additionally, the solution will include Client Breach Reports, updated course content, a new phishing lure page framework and integration with the Webroot Global Site Manager console for streamlined management across multiple users, clients, and sites.
A recent 451 Research report says that 62% of SMBs say they have security awareness training programs in place, but they also reported their programs are ineffective and difficult to manage. Security awareness training programs should be engaging for the end users, effective in risk reduction, and easy to set up and manage. A Webroot Security Awareness Training efficacy report found that an ongoing approach to security education and training resulted in a 70% decrease in click rates on phishing simulation links.
Also, with a new Phishing Lure Page Framework, users can now copy an image of a form for a phishing lure page rather than writing HTML code. Admins simply enter a URL and the solution can display the lure page as an image. This mimics how hackers set up phishing pages.