Submitted by John Garratt on July 29, 2020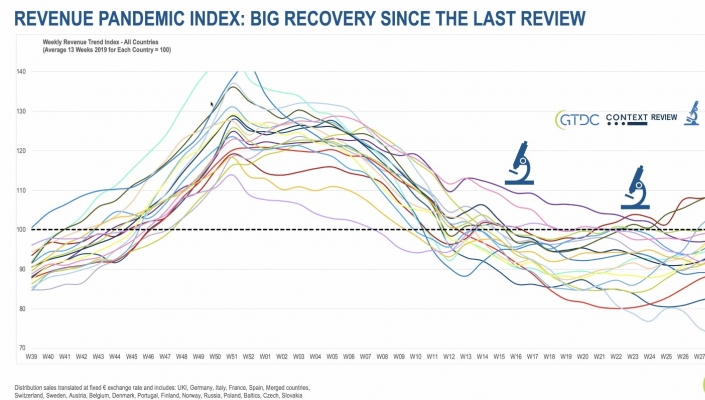 Sales to the channel through distribution have bounced back strongly, with a continuing emphasis on working from home. The very latest indications show a recovery in enterprise and mid-market as projects delayed by the crisis are restarting. This is according to the latest numbers compiled by researcher CONTEXT, based on returns from major distributors..
Q2 was "remarkable", Adam Simon, CONTEXT global managing director told a panel of distributors this week, aided by boosted demand in certain categories which drove the overall market positive, against the general European national GDP figures which are in double digit decline. The IT industry is doing well through mobile computing and work from home, it appears, particularly in notebooks, tablets and work-from-home peripherals such as headsets. Desktop computing has gone into reverse, and enterprise categories have also suffered in the first months of the crisis.
He is now predicting a Q3 of growth of around 1.5% to 4.5% after the Q2 finally produced a 4.9% growth. Most of the sales of mobile devices – notebooks webcam displays etc, seems to be continuing and enterprise business recovering.
Inside the Q2 figures, there were some massive variations after the 3.3% decline in May lead to a 15% rise in June.  The winning brands were those associated with these areas – Dell and Lenovo did very well, while enterprise sales fell back and this hit Cisco, HP and IBM. AMD did particularly well, with sales of its processors through the channel rising by over 150% yr/yr. As businesses were shut down and people furloughed, so enterprise sales slowed and this will be key to the recovery in the next quarter, he thinks. In Germany and UK in particular, the number of resellers buying from distribution has slowed and is yet to recover. Smaller resellers in the UK have been particularly hit by losing sales to corporate resellers and the rise in etail. If unemployment rises as expected, this will hit consumer demand in most economies, which has been the driving force for many IT retailers in particular.
Public sector sales have been sustained, and cloud technologies for all sectors are very much in demand, he says.
"There is a recovery taking place in IT and countries across EMEA are getting back to growth, driven by the volume sector and telecoms. Mobile computing will continue to help Q3 a lot even if the last few weeks have seen growth slowing. We have also begun to see Value sector sales recover; servers, storage and networking are suffering but there is growth coming through."
Software licenses slowed initially, but have shown signs of growth in the last few weeks while virtualisation software has jumped as projects have restarted.