Submitted by John Garratt on June 18, 2019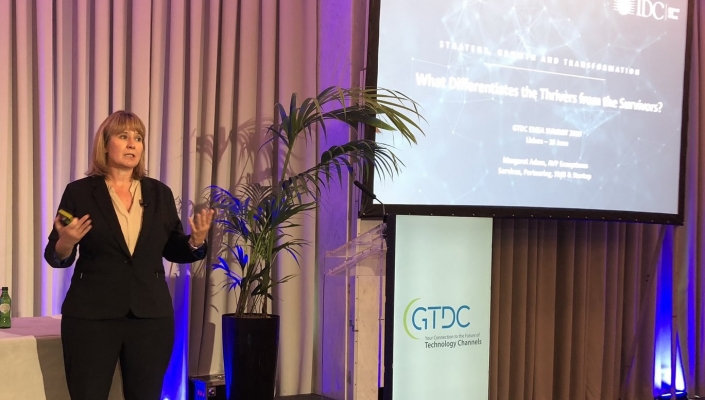 The first morning of the GTDC European summit in Lisbon heard several calls for new understanding of what distributors and other channel players actually do.  Facing a number of challenges through changes in customers' demands and with a rapidly changing customer base, distribution has known for some time that the original definition as a wholesaler doesn't work any more.
The changes in the channel itself will have a dramatic effect: the point was made by IDC's Margaret Adam (pictured) who claimed that some 30% of the current partners will not exist in their current form by 2021. This is due to the emergence of new players, new forms of channel and consolidation.
Distribution is not the right term for what we do now, and particularly in the era of services, even the quarterly ROI model doesn't hold up Anton Herbst, CEO of South African Distributor Tarsus told the annual meeting of distributors, resellers and partners.
The pressure from customers has emerged as a result of channels falling behind in the technology race, especially in cloud, said Adam. They seek partners with suitable skills as a priority, but as Tech Data's Miriam Murphy confirmed the distributors are facing more demands and need more resources themselves. She also called for changes in distribution contracts to reflect digitalisation and a new spread of responsibilities in the supply chain. "Linear is gone. Complexity is here. Our partnership is about learning from each other in a multi-directional environment."
Eric Nowak, EMEA president of distributor Arrow responded by saying that distribution had always followed tech changes, but pace of change currently makes it different. Tim Henneveld from distributor TIM agrees, but warned that tech is now so complex that players needs specialists and more real cooperation with vendors. "Integrating MSP and traditional resellers is a real issue," he said.
Mark Enzweiler, SVP Red Hat said that, as a vendor, he wants more discussions with distribution on what works and wants new ideas shared: "But then lots of vendors, distributors and channels say want to work together but without agreed metrics it is meaningless," he added.
Earlier the economist Angel Talavera from Oxford Economics warned of the various crises currently and potentially affecting the industry, including Brexit, trade wars and consumer confidence. But he also pointed to positive factors such as the continuing low interest rates, the supply of credit and growth in services. services are key to European business confidence
"The services sector has proved resilient - more so than manufacturing," he said in the opening keynote. And this is one of the few positives in a confusing situation.
New GTDC CEO Frank Vitagliano, who has been in the role for just 45 days says that it is important for the GTDC to reach out to new vendors; his tasks in the coming period will include arrangements to provide forums for networking and to help distributors solve common problems