Submitted by John Garratt on December 5, 2018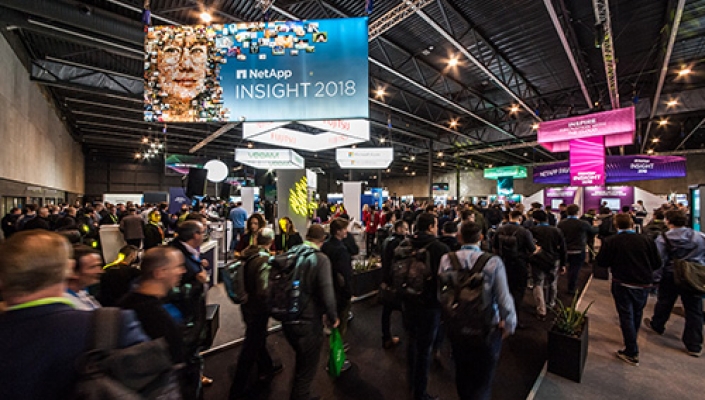 Despite still being a bread and butter heavyweight in the storage market, NetApp is continuing to widen its horizons in the cloud, now aiming for cloud and related services revenues of up to $600m by 2021.
Its last quarterly revenues were a total of $1.52bn across the business, so this aim, revealed at this week's NetApp Insight customer and partner conference, will not be an easy one to achieve. That said, everything the company is now talking about in relation to strategy is connected to the cloud, in particular addressing the multi-cloud needs of companies.
At the moment, according to research from data centre services firm Equinix, less than one fifth of companies in Europe have adopted a multi-cloud strategy to help address the digital transformation needs of their business, but everyone would agree that NetApp is aiming for one of the next big sweet spots for IT expenditure.
And as around 75% of its business is via the channel, its distributors and resellers will be happy about that.
The company's age-old but reliable ONTAP data management software is now marketed as a "cloud orchestration" solution for companies extending their cloud capabilities, and all its storage boxes now come with a host of features that easily connect them to cloud service providers.
The estimated 4,000 who attended the event in Barcelona were able to see that NetApp has the full backing of the cloud service heavyweights, with event sponsorship and stands from AWS, Microsoft and Google, along with IBM, VMware and Salesforce.
Not surprising, considering that in the last quarter, the company introduced NetApp Cloud Insights, Azure NetApp Files, Cloud Volumes Service, Cloud Volumes ONTAP, NetApp HCI, SaaS Backup for Microsoft Office 365 and NetApp Data availability Services.
Alexander Wallner, senior vice president and general manager EMEA for NetApp, said: "While data may well be 'the new oil', software is the engine, and that's what we will now be concentrating on to enable the multi-cloud architectures that customers are moving to.
"We may sell more hardware as a result of that, but we are now in a cycle of regular and immediate software updates to address market needs, acting like a nimble startup, instead of moving like a slow giant with big upgrades every 12 months."