Submitted by John Garratt on November 6, 2019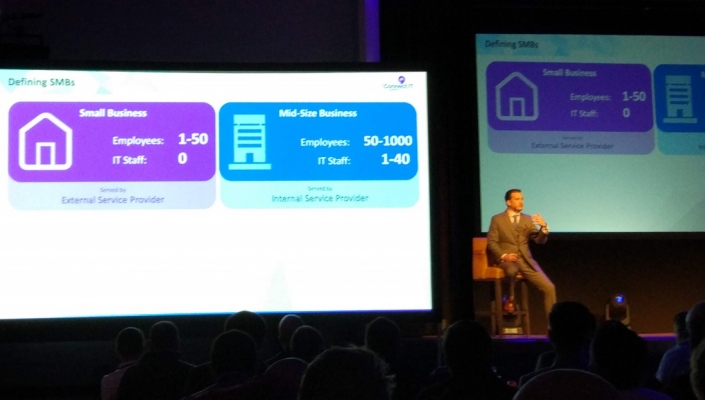 Kaseya is all set for a battle over platforms, but will concentrate on what it sees as the growing SMB sector. While the ConnectWise/Continuum merger means that business intends to build up and down the supply chain, Kaseya says it already did the acquisitions a few years ago for its portfolio.
CEO Fred Voccola talked to IT Europa at its Amsterdam channel event where several hundred MSPs and other channels heard presentations, got trained and took ecosystem-building seriously.
"You know, we actually looked at buying Continuum, but we passed…not that it's a bad company. Michael George (Continuum CEO) built a really good company. Thoma Bravo (the VC behind both ConnectWise and Continuum) is copying what we've been doing for the last four years. This is copying what we're doing, so we feel pretty good and pretty smart," he says.
Kaseya is set to make two or three more acquisitions in the next 12-14 months, he reveals, looking at security and other parts of its portfolio. And it will continue to grow rapidly, taking on another 300 people in that timeframe, over 100 of whom will be in Europe. Recent investment funding of $500m makes his plans possible. "MSPs are being asked to do more, from service tickets to end-point management, from SaaS backup to compliance."
He is set on working in the SMB sector, where he sees all the technologies which enterprises have adopted being made available, and where the SMBs themselves are increasing their investment in technology. It is a rising market where MSPs can hardly fail, but he highlights the differences between those who are surviving and those who are growing dramatically. "the ones that are more profitable understand it the most because they've invested the most in quality service delivery."
"What is a successful MSP? One with higher profit margins and higher growth relative to the average. And I think that you see that in two ways. One is they've invested in things like automation of things that allow them to be able to be more effective."
"Automation is good because it lets you make more money – higher profitability. You use less people to deliver the same revenue. But automation means there's fewer errors."
 "The second feature of top MSPs who are advanced or winning, is that they are recognizing and offering the full range of solutions for the customer. Now that sounds a little bit like they're selling more things. They are, but they're selling things that a customer needs," he says.
Hence the drive for quality and automation in MSPs which was a feature of the Connect IT presentations, using Kaseya's integrated tools and systems. "The technical efficiency of MSPs using the tools is some 25% higher, so in an era of skills shortages, this is important.
And Kaseya's growth will be with people with a new range of skills, he says – certainly business skills and softer, less technology-driven. But the MSP staff will increasingly be generalists using the common format of the tools to work across disciplines – what he calls multi-function IT professionals.
"So if you're on our platform, follow our playbook. That helps you to understand how to make sure your service delivery is efficient and with the right terms, and to make sure that your service offerings are what the customers need - not what they want, not what they should have, but what they need."