Submitted by John Garratt on June 21, 2019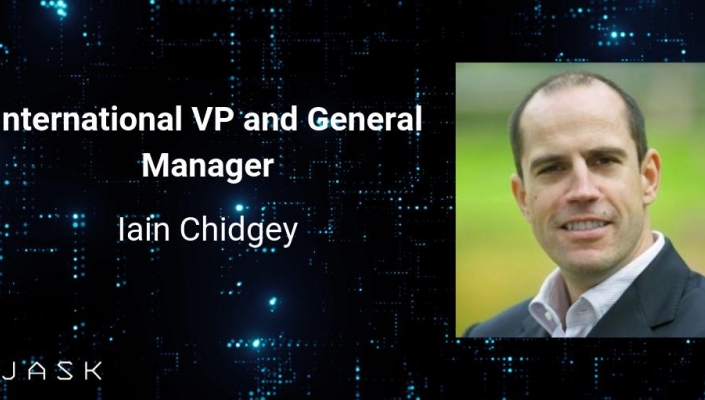 JASK, the "autonomous" security operations centre (ASOC) platform provider, has appointed Iain Chidgey (pictured) as international vice president and general manager. As JASK's first dedicated leader in the EMEA and APJ regions, Chidgey is responsible for accelerating company growth globally through an expanding channel presence.
Chidgey joins JASK from Delphix, where he was the company's first international executive and helped customers solve their "data friction" challenges. Prior to Delphix, Chidgey served as VP and general manager for EMEA at ArcSight, where he worked closely with JASK CEO Greg Martin. Earlier in his career, Chidgey launched and grew the international business for Portal Software.
"JASK is the perfect opportunity for me to bring my experience to bear in establishing and building global businesses for emerging companies," said Chidgey. "Companies are now faced with the challenge of the proliferation of data both on-premise and in the cloud and keeping it secure. This is the problem that JASK precisely solves."
"Iain brings a unique combination of knowledge of the security issues that CIOs and CISOs grapple with when moving applications and data to the cloud along with how to successfully build a business in EMEA and APJ," said CEO Martin. "He fundamentally shares our view that if an organisation is modern by being cloud-first, its security team needs to be modern in running its security operations centre."
At the end of last year, distributor Exclusive Group was tasked by JASK to lead its global channel assault, starting in the Benelux and Nordics regions. More countries were expected to be rolled out, with the distribution agreement coming on the heels of the appointment of Jessica Couto as JASK vice president of worldwide channels to "broaden and deepen partner commitment".
Speaking at last year's NetEvents technology symposium in San Jose, California, Greg Fitzgerald, then chief marketing officer at JASK, told IT Europa: "Ignition will be used to spread the word in the UK channel and Exclusive will be used on a pan-European basis to get our solution into every EMEA market. Exclusive also have a foothold through recent acquisition in the US, so will be used there to help us build up our business."
The JASK ASOC platform is an artificial intelligence/machine learning-based security information event management (SIEM) system for security personnel. The platform automates the collection, normalisation, correlation and analysis of alerts, helping security operations centre analysts focus on the highest-priority threats through JASK Insights.
This helps streamline investigations and delivers faster, real-time responses, said JASK. The platform is cloud-based, open and extensible, enabling customers to build on their current investments.