Submitted by Islam Soliman on April 6, 2023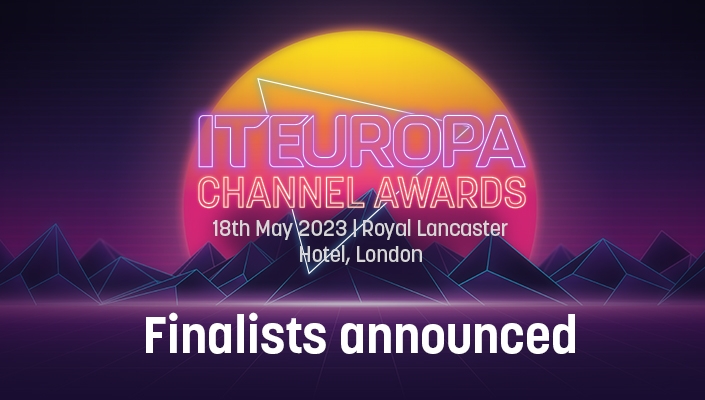 The finalists for the 15th annual IT Europa Channel Awards have been after breaking a new record with over 350 applications received this year. 
The much-anticipated event will take place on May 18th at the Royal Lancaster Hotel in London, where numerous prestigious accolades will be presented to celebrate the most renowned companies in the channel. 
IT Europa's Editorial Director Will Garside said: "It was a fantastic year with a great number of entries, making it a challenging task to select the finalists from such an exceptional pool of submissions. The strong response in newer categories, such as 'Corporate Culture of the Year', was noteworthy, and shortlisting the entries took considerable deliberation. 
"With this phase over, we also have some great metrics to share. In total we received over 300 entries from 18 different countries across Europe for this phase, with a wide range of participants including multinational suppliers and innovative startups. 
"We extend our gratitude to all those who submitted entries and are looking forward to announcing the winners this May at our gala event."
The event is sponsored by ThreatLocker and promises to be a standout occasion for all involved. Cofense is the official Red Carpet Sponsor of the event, and Category Sponsors include ConnectWise, Kaseya, OpenText CyberSecurity, Pax8, and Pia.
Solution Provider
Big Data/Analytics Solution of the Year
Ardent
InSky Solutions
Northdoor plc
Plain Concepts
Cloud Solution Provider of the Year
Content Guru
FourNet
iTechArt Group
Itransition Group Limited
Northdoor plc
PeaSoup Cloud
Plain Concepts
rankingCoach GmbH
RingCentral
sfG MentorNet
Telefónica Tech UK&I (BMI)
Enterprise Solution of the Year
123 Insight Limited
Ardanis
cux.io
IP Fabric
IriusRisk
Logpoint
Plain Concepts
RA Information Systems
Retail Assist
Sankey Solutions Ltd
Schneider Electric
TAV Technologies
ZigiWave
Managed Services Solution of the Year
BrandBastion
ChannelEngine
Eseye
Jumptech
NinjaOne
Sedcom Networks Ltd
Tardis
TEKenable Limited
Business Continuity Solution of the Year
IT LOGIX LTD
Assured Data Protection
Digital Samba
Northdoor plc
Techrelate
Transition Technologies PSC
Best Remote Managemanagement Solution of the Year
Artelogic
CITIC Telecom CPC
ConnectWise
Digital Samba
Ezeep
Motion Software
Tardis
Vertical Application Solution of the Year
DEKOM B.V
Arribatec Group ASA
Audacia
Each&Other
Edvantis
Logpoint
NEWTON Technologies Adria d.o.o.
Ordorite Software Solutions
PureNet
Splashtop
Tardis
TEKenable Limited
T-Tech
Managed Services Project of the Year
Dunedin IT
Northdoor plc
OryxAlign
Park Place Technologies
SCC
Smartdesc
Synyega
Emerging MSP of the Year
Advancery Limited
Aztech IT Solutions Ltd
Emerge Digital
KoçSistem Bilgi ve İletişim Hizmetleri
OFC Limited
Ordorite Software Solutions
Smartdesc
Solidstudio sp. z o.o.
Zenzero
Cyber Security
Cyber Security Managed Service of the Year
Avast Business
Cofense
Custodian360 Ltd
eSentire
Fifosys
IBA Group
Littlefish
NextGen Cyber Limited
Resolution IT
Six Degrees
Cyber Security Response Team of the Year
Cofense
MOTO Hospitality
Plain Concepts
ThreatLocker Inc.
Cyber Security Technology Innovation of the Year
Aryaka Networks Ltd
Cofense
Cynomi
Itransition Group Limited
Quod Orbis
WithSecure
Cyber Security Vendor of the Year
Blackberry
Egnyte
Illumio
Keeper Security
KnowBe4
Lookout
OpenText Cybersecurity
Proofpoint
Skurio
Sophos
ThreatLocker Inc.
Vanta
Cyber Security Educator of the Year
AB S.A.
Hornetsecurity
Illumio
KnowBe4
Plain Concepts
Cyber Security Emerging Vendor of the Year
Searchlight Security
CyberSmart
Red Sift
Cyber Security Leader of the Year
Angus Shaw, Sales Director at Brigantia Partners LTD
Mostyn Thomas, Senior Director of Security EMEA at Pax8
Greg Jones, Vice President of Business Development EMEA at Kaseya
Monika Dainytė, Senior Partnerships Manager at NordLayer
Supplier & Distribution
Software Vendor of the Year
CAS Software AG
Cofense
ConnectWise
Exclaimer
Light IT Global
Nasuni
NetSupport
Pia
SmartWe World SE
Sophos
STX Next
Union Street Technologies Ltd
Unravel Data
Technology Vendor of the Year
ASPEKT LLC Skopje
Future Processing
Inbay
Megaport
Pia
Pure Storage
Vertiv
Channel Service Provider of the Year
ManageEngine
Pia
Relltek Ltd
SYNAXON UK Ltd.
Telev8 Limited
Cyber Security Distributor of the Year
Brigantia Partners LTD
e92plus
Nuvias, an Infinigate Group Company
Teknov8 Distribution Limited
Westcon
Distributor of the Year
AB S.A.
ASPEKT LLC Skopje
Digital Wholesale Solutions
Esprinet
Pax8
TD SYNNEX
Teknov8 Distribution Limited
Channel Programme of the Year
Agilitas
ConnectWise
Epsilon Telecommunications
Nasuni
Pax8
Pure Storage
Schneider Electric
SolarWinds
SUSE
Special Awards
Corporate Culture of the Year
1-Fix Limited
Agilitas
Digital Wholesale Solutions
Future Processing S.A.
Linnify
N-able
OryxAlign
Remoteli
Sankey Solutions Ltd
SCC
Most effective Channel Marketing Activity
AvePoint and Bytes Technlogy Group
N-able
Pax8
Sophos
Telev8 Limited
Channel Leader of the Year
Stacey Trozer, Director of Channel at Auvik Networks
Greg Jones, Vice President of Business Development EMEA at Kaseya
Jo Holliday, VP Channel Sales at Exclaimer
Phylip Morgan, Chief Revenue Officer at Pax8 EMEA
Scott Tyson, MSP and CSP Sales Manager EMEA at Sophos
For those interested in any Sponsorship opportunities, please contact:
Aadil Shah
Aadil.shah@iteuropa.com 
+44 (0) 7516 501 193   
Interested in attending the IT Europa Channel Awards, please book your table(s) via the website: https://www.iteawards.com/table-booking