Submitted by John Garratt on July 15, 2020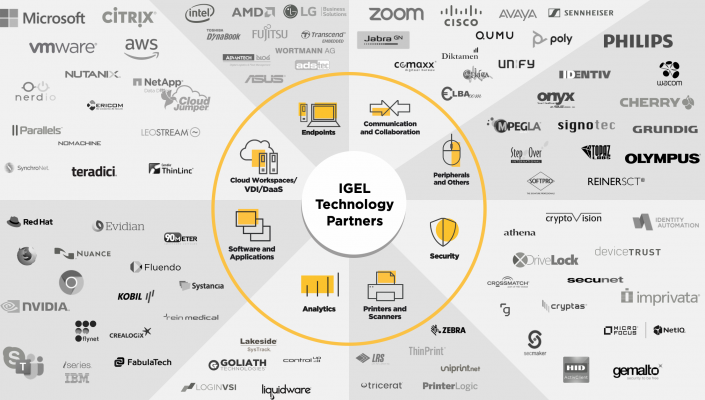 Cloud access software provider IGEL has unveiled its IGEL Ready programme to extend the footprint of its partner ecosystem. The company is also set to formally announce the appointment of a new global channel chief next week, but whose name IT Europa can reveal below. 
IGEL Ready opens up the company's core enterprise software for any technology partner to integrate and validate for their products. It will also help VARs and MSPs to more easily deploy office, home and remote working solutions for customers' staff, said Simon Townsend, chief marketing officer at IGEL.
By participating in the programme, technology partners will be able to reach over 3m IGEL OS-powered endpoints, more than 17,000 IGEL customers and thousands of resellers. Technologies from over 90 companies are already integrated within IGEL's platform, including Microsoft, Citrix and Zoom, and that number is expected to "double" by 2021 with the help of IGEL Ready, said the vendor.
The programme aims to create an ecosystem where customers can consider compatible devices and applications across a range of categories, quickly deploy to their virtual desktop or cloud workspace, and securely access from any device equipped with IGEL software.
The initiative comes at a critical juncture for IT, IGEL said. "Widespread cloud migration and a surging distributed workforce have transformed how enterprises manage and secure endpoints, fuelling demand for virtual apps, desktops and cloud workspaces."
IGEL says its edge operating system and management tools can help businesses "migrate to the cloud overnight". When installed with IGEL OS, "any device" - including Windows desktops, laptops, HP or Dell Wyse thin clients and MacBook devices - can connect to any cloud, including AWS, Microsoft Azure, Citrix and VMware.
IGEL says enterprises can "easily repurpose" existing hardware and manage thousands of endpoints from a single interface, all with the added security of a lightweight, read-only Linux OS.
Pratik Shah, director of product management at Citrix, said: "We're expanding our partnership with the launch of IGEL Ready to ensure that our validated solutions can be easily identified, and that our customers can be assured they are running the most up-to-date versions that have been tested for performance and interoperability."
Technology alliance partnerships, of which the IGEL Ready programme is focused on, will continue to be run by Simon Clephan, VP for business development and strategic alliances.
The firm however is set to formally announce the appointment of US-based channel veteran Balaji Subramanian as its new global channel chief. In a call with IT Europa this week, IGEL's Simon Townsend confirmed Subramanian's responsibility will be VARs, distribution and system integrators.
Subramanian has joined from ServiceMax, where he served as vice president for global alliances and channel sales. In a 25-year career, he has also held senior channel roles at Adobe, Cisco and Informatica.
IGEL said he will be responsible for ensuring IGEL has the "right number of partners, as well as the right types of partners", with the "right geographic reach and skill-sets" and who are also "focused on renewals and recurring revenues".
Subramanian will be working to recruit new partners who are aligned with the Microsoft, Citrix, VMware and Amazon partner communities, while at the same time developing vertically-focused enablement programmes across healthcare, financial services, education and other segments.
Additionally, he will work with the IGEL team to develop new training and mentoring programmes designed to enable IGEL channel partners to attract and retain new customers, and increase their share of wallet with existing customers.
Subramanian said: "One of the most important goals for any 100-percent channel-focused organisation like IGEL is to enable partner success, and as the new channel chief, I am committed to ensuring that we continue to win the hearts and minds of our partners so that they will become loyal advocates."
He said: "We want our partners to be skilled from both a selling and technical standpoint, and we know that the current environment has changed the way partners sell. For example, with much of the face-to-face marketing and sales now on-hold indefinitely, we are working on tools and resources that will better enable our partners to find opportunities to grow and scale, while networking and collaborating remotely.
"IGEL has a large market opportunity moving forward. I see tremendous growth in its future as we attract more partners and customers and continue to drive innovation in the cloud workspaces market."