Submitted by John Garratt on August 12, 2019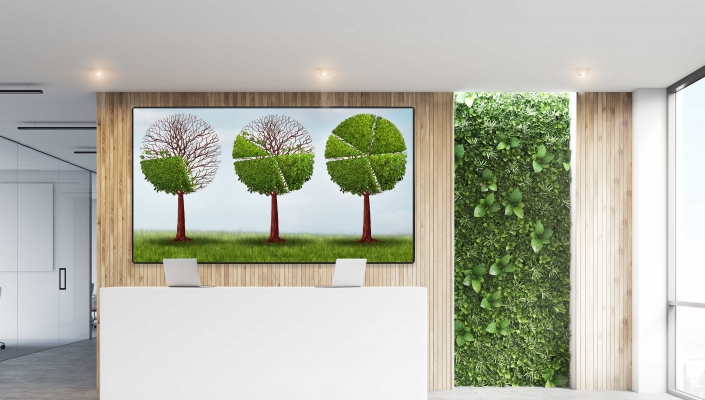 Exertis has added to the projection range of products from Optoma it distributes to include LED displays, interactive flat panel displays and associated accessories.
Optoma LED displays are targeted at boardrooms, auditoriums or as atrium welcome displays. They include the QUAD FHDQ130 LED display which produces a 130in Full HD image. Designed for corporate and education environments, Optoma's multi-touch interactive flat panel (IFP) displays boast 4K UHD resolution and a 20-point touch-enabled display.
The latter are available in 65in, 75in and 86in sizes and come with a whole tranche of pre-installed apps to make business meetings and lessons more streamlined and collaborative. These include the video conferencing app Zoom and the Screenshare app that allows multiple people in a meeting to simply type in a code to share their laptop or PC screen. Cloud Drive allows users to save documents to the cloud via Google Drive or OneDrive.
Greg Bennett, head of Exertis Pro AV Solutions, said: "We are pleased to add Optoma's LED displays and interactive flat panels to our portfolio for the business, education, professional AV and home entertainment markets. Whether it's simple projection or a complex installation, our resellers will have a competitive solution to offer to their customers."
James Fitzgerald, UK territory manager, said: "We have built up a close working relationship with Exertis, which has distributed our projection products for more than a decade. But Optoma is no longer just a projection company, we are in the business of big imagery, and are entering an exciting new phase with Exertis."
Earlier this year, Exertis sealed a pan-European distribution agreement with Intevi to provide resellers with a variety of digital media solutions. Intevi offers digital signage, digital communication and IPTV solutions with metrics and analytics, aimed at a wide range of vertical markets such as hospitality, retail, corporate, transportation and stadia.