Submitted by John Garratt on June 21, 2019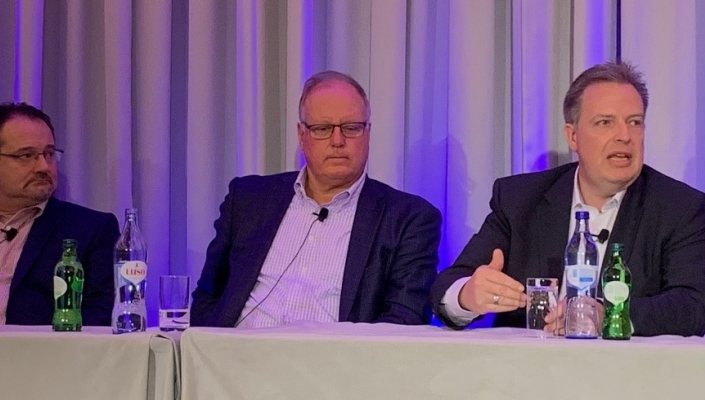 Distribution knows it needs to change to adapt to changing sales models and services, but it is not a linear progression, the first panel at this week's GTDC Summit in Lisbon decided. Future channel growth will need to be built on close engagements, and a better understanding of associated businesses. This could lead to more data sharing in the industry, and more open access to sales data. There are also some key issues to sort out concerning cloud contracts. This first panel discussion at the conference looked at a positive relationship between distribution, vendors and channels, but one that needed more examination if it was to continue to demonstrate value.
And that value is increasingly complex. New GTDC CEO Frank Vitagliano (below) introduced the debate: "Strong partnerships are the backbone of industry transformation. Distributors and vendors must work closer than ever in this era of unprecedented change and innovation to fully enable solution providers worldwide. This forum helps everyone gain a better understanding of how best to advance channel initiatives, services and solutions at a time when there's absolutely no room for complacency."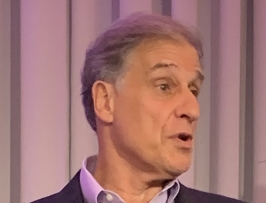 To start with, there was no question as to the role of the channel and the distribution model. Mark Enzweiler (pictured below right), Senior VP Global Partners and Alliances, Red Hat: "Distribution has worked well for us. Of course we've never been in the physical hardware business or in inventory, so it  is really the technical support."
He supports the GTDC's role in talking more about distribution's capabilities: "We need to advertise more about what you've been capable of doing beyond the traditional pick, pack and ship. I think we've seen that first-hand."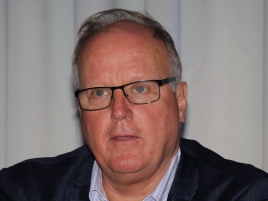 Red Hat has around 180 funded heads, the vast majority in technical and in the distribution business, he says. "So I would say they've been extraordinarily adaptable. I have not seen anything that we've gone to distribution and asked them to do that they're not capable of. They have to build the base of their business and it has to be a sustainable plan. But we've had great success with distribution and they continue to be a cornerstone of our business."
Tim: Henneveld of distributor TIM wants the process of change to happen faster: "There are always things that can be done better. But the general line is that its a very good development. Among the challenges that we see is one that has always been there - that sometimes things take too long to get done or to get changed." 
"We're talking to big organizations so it takes time. So the advice to vendors is try to stay as lean and agile as your technologies in your organizations; to keep the momentum and to adapt quicker to the market."
Another challenge is coming out of the MSP business and working out how to integrate MSP programs with legacy programs for the channel. "So usually there is a channel model and then there's an MSP model but the businesses are growing together. And this has to be reflected from our perspective and in the channels with the vendors."
A second challenge is cloud services that are resold by the vendors to distributors. This covers licensing and financing but that's a small part of it, he says. It's more about the contract. "So we see challenges in risk allocation. We always have an issue that contracts for cloud services that means using a certain court in a certain country and a code for regulation and there are issues of a limitation of liability offered in other countries."
"That risk discussion and who takes what risk in the reselling of cloud is something that is today from our opinion not solved," he concluded. 
"Yes, let's talk more," says Red Hat's Mark Enzweiler :"I think often the distributor is not using all the leverage it has. We don't have all the answers. Come back to us and say 'here are other things we've seen with software vendors. Here's some things you might want to try. What are your priorities?'. I would like to have more of those discussions with distribution."
Miriam Murphy (below), Tech Data SVP: "Frank Vitagliano referred earlier to the change in the entire channel structure. It used to be a be this very linear environment where it was very simple: vendor to distributor to reseller to end-user and often a truckload of supplies. And it's completely different now and even for those of us who've been in the software distribution for many years it's become much more multi-directional."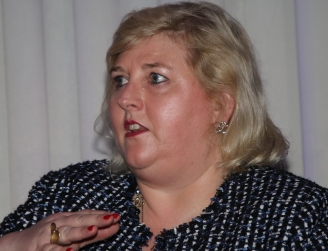 "The definition of who does is evolving all the time. One of the things that I think is is maybe important is. a preconceived idea of what a distributor is and can be can be one of the most limiting factors we have in our conversations. And so that learning from each other and the discussion on what the potential of what we can achieve in this multi directional channel environment and changing systems is really important."​
Ralf Jordan, VP Distribution, Dell: "I honestly believe that predictability and engagement is one of the most important topics that is ultimately there to enable and drive the distributor relationship. And obviously there's a responsibility on both sides. I believe it's all about doing what we say we're going to do and not changing too often."
"Ensure that you are basically keeping the programs more or less stable and to have a base of planning to ensure that you can predict reactions in a crisis. There is a kind of mutual understanding of how to deal with it as well. Predictability means as well that there is staying the course - no opportunistic behavior to distribute a single vendor or whatever."
Eric Nowak, President Arrow ECS EMEA: "Predictability means both sides have their own responsibilities and once again this calls for consistency. This is a long-term partnership that we have as distributors,"
Miriam Murphy: "It is now much more of a solutions-sell environment. The really important thing as we build that out is that our vendor partners are very open to collaborating with each other in activities that we do. They should be open to investing in marketing funding and enablement funding to support multi-vendor solutions and also solutions that involve services. The vendor community become much more open to a collaborative environment when it comes to building programs together, but there's still some work to be done there and that's really critical."
Ralf Jordan, Dell: "The source of everything is data transparency on data." 
The GTDC says it aims to adds by helping venders, channel and distributors transparently share data. "This allows the industry to become better. I think we have all seen the consumer product goods industry change and how many sharing of data can change the industry. And at the end of the day I believe it's the basis of everything. Therefore we need to come to that, looking into it collectively," he concluded.