Submitted by John Garratt on February 12, 2020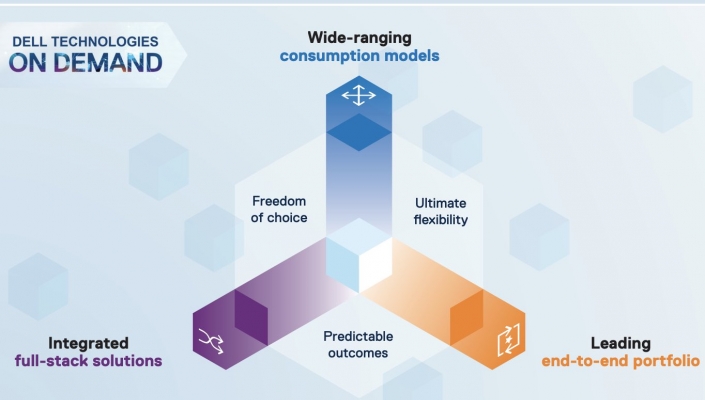 Dell Technologies is aiming to attract more specialist partners; it has simplified its channel programme and says it is investing to support channels engaged in digital transformation and new tech.
Its recent global channel event heard that its indirect business brought it $52bn in orders in the last year; Q4 results aren't out yet, but the third quarter, saw 8% order revenue growth, 9% distribution growth, 11% storage growth, 7% server growth and over 52,000 new and reactivated customers, it says. 
Dell's Rob Tomlin, VP of UK channels, agrees that it has seen strong channel growth over the last year co-incidentally his first year in the job.
"Last year was a year of consistent growth based primarily on digital transformation as customers invest in technology at the end point, even more importantly in the data centre, and in the hybrid cloud,"he told IT Europa.
Customers have worked through their cloud journey and the channel has had a large part to play in this. End users need partners in that journey and that has been a feature, he says.
"They are looking for value from partners and partner who can offer a service under SLA – the planning part of the transition. We are training partners to provide that. And then customers want partners who can help them run their own environment. "Dell has different types of partner; in particular we seeing a lot of growth of managed services partners. Many more partners are moving into that space."
Dell has made recent changes to its partner programme with the aim of lowering any barriers to entry to new partners – a simplification of the programme, which will help specialist partners. "Instead of 16 different targets and accreditations it makes it a lot easier to get them on board, particularly in security, AI and machine learning, we have a very simple process, working with distribution. Hopefully, they find it profitable and predictable and with no sales targets at the start, he concludes.
"The channel programme announced last week covers partners who are solution providers, including managed services. We also have cloud services stream which monitors cloud usage and Dells' end-user sales team can engage with the partner showing activity and be rewarded on that activity."
"In general, we are seeing traditional partners providing managed services and that will typically be working with a global public cloud provider offering aggregated services on an annuity basis, usually in a hybrid model. Dell Technologies On Demand (introduced a few weeks ago) has an advantage in supporting all types of operation – cloud is not a destination, but an operating model, where we can provide the platform for solutions partners and MSPs."
Dell Finance is also a differentiator, he says.  "We are fortunate to have the DFS with a full banking license to support the growth of partners. We are able to do things that other providers can't. In general we are seeing rapid growth through DFS engagement so this year we are really stepping up DFS engagement with partners who want to do more cloud business. Customers may want to have a data centre, or co-located facility, but want to move to an annuity model, and so have the look and feel of a public cloud provider but in their own data centre."
"It gives the partner the ability to do monthly billing on premise in the customer data centre, with a burst to public cloud, and we are seeing strong take-up of this in Europe. We are now going out to the channel and educating them on how to spot an opportunity that looks like a hybrid cloud and also educating the channel finance teams on positioning."
Partners can still build the solution and get an upfront fee and partner benefit or offer it as a monthly billing. It is a journey and some partners are more advanced than others in its adoption, he says.
It is a blend for the partner – the customer wants a hybrid approach- touch and feel of public cloud and the flexibility and partner backing to deliver that. "We are seeing partners' infrastructure and service business grow at similar levels. The drive to public cloud by partners a few years ago has changed and is now a blended hybrid approach.
On the shape of the channel he says he is seeing specialist channels coming to market in security, in software defined networking, the edge and 5G. "And those partners are collaborating with other partners who are more involved in infrastructure – we welcome specialists coming on board and working together."  
"We are enabling the channel to take our cloud offerings to market – we hope to add new partners with this."