Submitted by Islam Soliman on September 23, 2021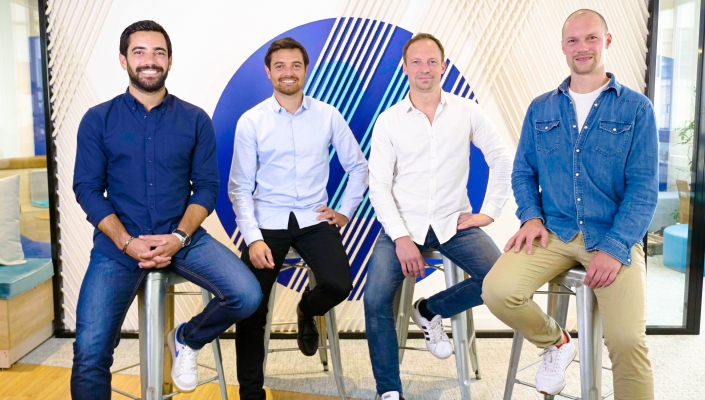 Digital coaching provider CoachHub has bought Paris-based MoovOne to expand its global footprint and further accelerate innovation in digital coaching worldwide.
This acquisition, for an undisclosed sum, comes after CoachHub recently raised £58m in series B2 funding with Draper Esprit, RTP and HV Capital backing the coaching platform.
"A gradual reopening of offices and the implementation of hybrid working models challenge companies around the world to adapt to new needs of employees in terms of well-being, management and leadership," said Yannis Niebelschuetz (pictured middle-right), co-founder and CEO of CoachHub. "By joining forces, we are further accelerating our global growth and development, offering the most comprehensive global online coaching platform for everyone that satisfies the needs of each customer." 
With the acquisition, the pair said they are in a better position to respond and anticipate the new needs of the digital coaching market, especially when it comes to company and individual transformation. 
"Our culture and synergies decisively bring us together as a combined company with more than twice the impact," said Hugo Manoukian (pictued middle-left), CEO and co-founder of MoovOne. "Together as one entity, we'll energetically move forward in the same direction, taking digital coaching to the next dimension globally."
By acquiring MoovOne, CoachHub said it is determined to leverage the talent and expertise of all MoovOne employees to bring maximum value to their clients and expand their market reach. The combined organisations will have more than 500 employees by the end of 2021, with recruitment expected to accelerate further in 2022 and beyond.
"The improvements for employees and organisations receiving coaching by CoachHub and MoovOne will be significant," added Niebelschuetz. "Our union further expands our pool of highly qualified AI-recommended coaches, and the team will extend and accelerate the development of innovative, scientifically proven functionalities and services to continually meet and exceed the needs of organisations and employees alike. In the coming months, teams will merge, and all customers will benefit from enhanced service, new coaching offers, a larger coach base, as well as more features on the platform."