Submitted by John Garratt on May 16, 2018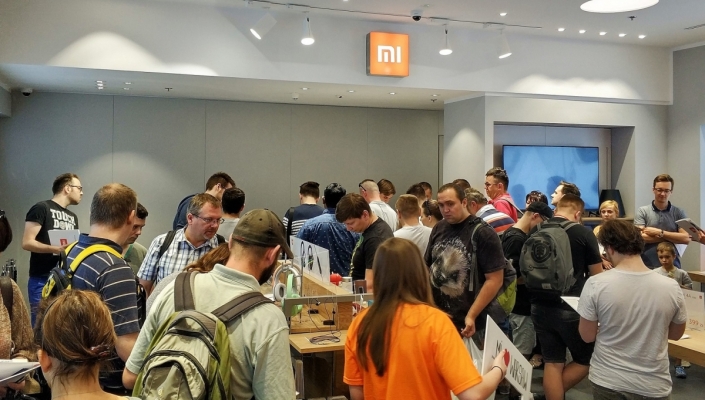 Phone maker Xiaomi, online retailer Mi-home.pl and local distribution partner ABC Data have planned and opened an authorized Mi Store in the Warsaw shopping centre Arkadia.
Mi Zone has been operating in Warsaw as a shop and showroom since June 2017, but thought the market would benefit from wider access to Xiaomi products, so planned the expansion in conjunction with Polish distributor ABC Data.
On the first day of its operation, 12th May, the shop was visited by a total of 2800 customers. Along with its online shop, Mi-home.pl sold almost 1000 Xiaomi devices.
Mobile has been a real success story for ABC Data which has just reported a doubling of its year/year profit and beating its financial targets.
ABC Data CEO Ilona Weiss tells IT Europa: "A key area in our portfolio are mobile devices. We're proud to have been the first distributor of Xiaomi devices in Poland and in the European Union. Two years ago, this brand was almost unknown in our country. Now Xiaomi smartphones are one of the most popular and best-selling models in Poland. Currently, we remain the leading Xiaomi partner in the CEE region, and our range of Xiaomi products is constantly expanding. After successfully introducing Xiaomi products to the Polish market in the second half of 2016, in 2017 the company expanded its Xiaomi portfolio by adding new devices and appliances. Thanks to ABC Data, Xiaomi equipment has been available in Lithuania and Romania since 2017."
However, the mobile portfolio of ABC Data isn't limited solely to Xiaomi products but it also offers solutions from other manufacturers, such as Huawei or Apple. The cooperation with the latter has also proven to be very successful for ABC Data Group: iSource - a subsidiary of ABC Data - remains the largest distributor of Apple in Poland. "We are also a leading distributor of Huawei smartphones in Poland," she says.
"In 2017, ABC Data continued its development and expansion to foreign markets. As a result, the group continued to maintain a strong market position in Central and Eastern Europe, in the Baltics as well as in Romania, where it has already become one of the top three largest distributors. Last year, we recorded a 5% y/y increase in sales revenues in the Baltics and a 9% y/y increase in Hungary. We are gradually expanding our sales channel in the region, and the margin on transactions is gradually increasing."
The greatest impact on the level of consolidated sales revenues generated by ABC Data in 2017 was caused by switching the focus to high-margin transactions and a y/y increase of nearly 30% in sales revenues achieved by the subsidiary S4E S.A. Last year, this Polish value added distributor reached record sales revenues of PLN 240 million, compared to PLN 186 million in 2016.
Does she see new areas opening up such as the Internet of Things? "It has been a while since we first started offering Internet of Things solutions. By now in our catalogue there are many IoT devices dedicated for consumers. The vendor that plays a leading role in that field is Xiaomi. This Chinese brand recognized for its smartphones has a huge offer of ecosystem products distributed in Poland, Romania and in the Baltics by ABC Data. These include air purifiers, smart body scale, rice cooker, electric toothbrush, smartwatches and others – all of them smart and web-connected."
"On the other hand, we are still focused on four major business areas: cloud, mobility, VAD and e-commerce. As I mentioned before, ABC Data offers cloud solutions through the ABC Data Cloud platform. Now, a few months after the launch, we are already seeing good results: growing number of clients and partners offering their solutions via our platform (these include Microsoft, Symantec, Kaspersky and others, both global and local)."
ABC Data, through its subsidiary iSource, is today the main distributor of Apple products in Poland, she says. The company is also actively pursuing cooperation in the wider environment of smartphone and mobile devices makers. Its offer also includes devices made by Xiaomi, Huawei, Asus and others. "This is our vision of being the leader in mobile device distribution."
"As for the value added distribution, since acquisition of the S4E company in mid-2016, ABC Data Group has significantly improved its position in the VAD distribution area in Poland. Now we plan to concentrate on further consolidating our position on the services market and adding value by, among other things, consistent development of its specialist products and services portfolio and by expanding its educational offer. At the same time, we keep evolving in the area of e-commerce. 2018 marks the 20th anniversary of the creation and first tests of the ABC Data's sales platform – InterLink. The distributor has not ceased improving the service ever since, which is why it continues to be the company's main sales platform. InterLink is available today in nine language versions to thousands of B2B clients in the CEE region. Yet another e-commerce innovation we have introduced is the Reseller Web program - sophisticated e-shop application. It allows our clients to configure and launch their online stores fully integrated with our systems in no time, while remaining independent. The clients taking part in this program can also use our drop-shipping service to save on storage and logistics".