Submitted by John Garratt on April 23, 2018
Always the optimist, Arnie Bellini, CEO of IT reseller turned software company ConnectWise, is looking forward to another good year. Talking to IT Europa at his company's European IT Nation (below) in London where over 350 partners met to talk tactics, see the new products and plan the future, he said he was pinning his expectations on the model of co-operation in his ecosystem. The growth will be based on meeting the opportunities in the market, and he is not limited by funding or vision. He just needs to find 250 new people this year who share the enthusiasm!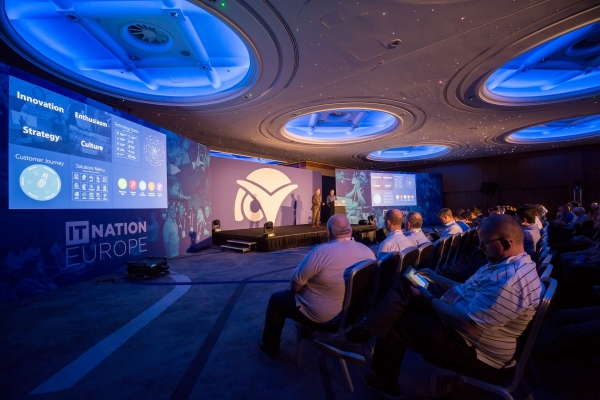 "Our secret is passion. I think that is the secret is why we are in business. Technology holds the answers to a better future – you can't look at the world without realising this. We are passionate about the tech teams who are the superheroes, delivering and supporting technology and moving us to a better place."
Everything is evolutionary and builds on what went before, he says. "I remember walking into one of our first clients – an insurance company in a five-storey building which had three storeys of paper. A whole building mainly for paper. They don't look like that today – we have digitised it."
Everything is digitised and data is gold now and what is interesting to him is the value in that, and hence the move into security. "We have everything available in a couple of clicks. Now people are trying to steal it – so we have to secure it. It is all evolutionary. Security is the next stage."
But it has to be sold – selling to the right people at the right level. "If you want to accelerate this we have to get our partners' great at sales and marketing. That is why the ConnectWise platform covers sales, marketing and delivery .  We cover their customers' journey. We see it as a customer journey which will have touch points and these have to be exemplary. In our industry the dominant thinking is tech first – but  we also have to be good at thought leadership and training. It starts with making people aware of the service – how good is your brand?".
The ConnectWise Campaign aims to help - this is where the partners are able to make customer aware of the service they offer. "We are now working with partners to help them understand how to do better marketing. This year we are putting a great focus on awareness and evaluation processes."
And the solutions will be driven by what is being done in the ecosystem. "Take the tech teams and solutions – 23 tech partners in the IT Nation Pavilion are integrated with us. These solutions mean we have 204 integrations into the platform. This is important because the customer picks from that and combines the tech teams' services with that to deliver to the client. Our goal is to have fifty new and different integrations. ConnectWise Unite (the newly-announced cloud product) will also help this.
"It means that very quickly we have  number of solution partners who want to connect and they are coming to us. So we tell them that we can create marketing and sales proposal packs for the solutions and input it into the platform. So we can take a backup products and take it into a campaign. They love tech, just like me; I feel for them, but it no longer enough just to be technologist. There was a scarcity of knowledge before, but now the  customer needs to know how it applies to their business."
About the Cisco deal: "We are all enthusiastic and they have a lot of partners, a great brand and technology. We have worked with them on the products which would work well in SMB -. Meraki, Umbrella, StealthCloud are all great products for SMB and we have just launched the integration of those into one pane of glass (Connectwise Unite) so that partners can manage and monitor them."
The next step for them is to develop the marketing campaigns and proposal system to make it easy for someone to use the solution. "We think that will reduce the friction in the marketplace – the time take between deciding what the customer wants and then building it, managing – all these steps are currently disconnected and we are connecting them all to make it a one click buy, one click marking, one click deploy, one click manage, monitor and bill."
"We are really excited about Cisco. We know there are a lot of partners who should be using this, and the relationship is great – the company made it easy to do business with them and easy to integrate with."
"Growth this year will be international, expanding the London team, we are doing very well here and making inroads into Europe, (ConnectWise International is currently growing 23%) and expect that to kick up a notch. We have just opened the office in Australia and soon south Africa. The upcoming language additions will help us expand even more.'
"Nothing can stop our ambitions, but growth means we have to hire 250 people at present and we are a 1000-strong company now. We have to make sure we have the right people; we are looking for team players and have a vetting an interview process – you don't need to be the smartest but you have to have passion."