Managed services providers become new IT growth engine
September 21, 2017
Suppliers of managed services are taking on more responsibilities as they become the driving force for IT industry growth, as the Managed Services & Hosting Summit was told in London this week. Several hundred managed services providers (MSPs) and aspiring providers of managed services were reminded of their need to become rounded providers of business productivity, by adopting the right mindset, getting trained on the issues and by working together to offer ranges of services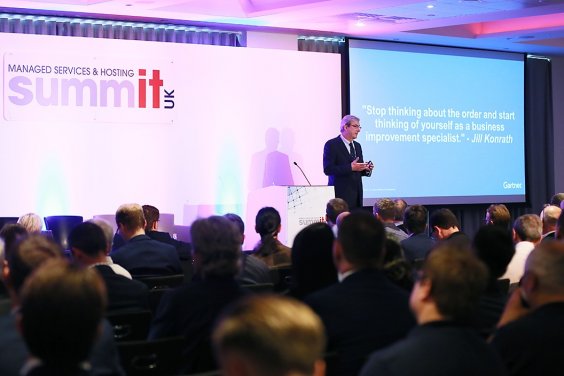 Mark Paine (above), Gartner research director told the conference that service providers had to take account of the changing attitudes of buyers by focusing on the business outcomes and the raised expectations among buyers now that IT has had to become a productivity asset for the business. And they need not try to do it all themselves - partners can co-operate to address the wider market requirements, he said, MSPs had to carefully choose go-to-market partners that can talk both technology and business; and they had to start with a vision; look at use cases; and consider processes, challenges and outcomes for their customers.
Customer acquisition costs (CAC) versus lifetime value (LTV) also had to be brought into the equation, considering margins, partnering agreements and questions as to who owns the invoice, plus the on-going up-selling/cross-selling opportunities. The rewards were there through continuing revenues and repeatable business, as successful MSPs have shown. The rewards for getting it right are substantial, Mark Paine says, including valuable access to customers' ecosystems, becoming a pivotal part of customers' success stories, and benefiting from lead sharing with technology partners.
The added benefit of recurring revenue from cloud services is substantial and this was echoed at the Summit by Michael Frisby, managing director of Cobweb Solutions, which sells cloud solutions from Microsoft, Mimecast, Acronis and others. Frisby said: "We became a cloud managed service provider from originally focusing on traditional solutions like Exchange, and 95% of our revenues are now recurring. But you have to make sure you get the marketing right to do it." Continuing training and education of the MSP were essential, he added, pointing out that Cobweb itself had boosted its investment in this four-fold in the last year.
Other isues covered included the looming compliance with GDPR: legal firm Fieldfisher's partner Renzo Marchini warned that the rules were changing and the impact on MSPs would be profound. Service providers are to be regarded as 'data controllers' under GDPR, with the prospect of huge fines.
The theme of partnering was confirmed later in a round-table discussion when the Global Technology Distribution Council's European head Peter van den Berg pointed out how much distributors were investing in services and education. Security was also a key issue, with the service provider very much in the firing line in the event of any incident. Sponsor Datto revealed some of the latest research from its global survey: Business Development Director Chris Tate revealed that "87% of our partners have had to deal with a ransomware attack on behalf of their clients." Earlier, SolarWinds MSP had shown how all-pervading the issue was becoming in discussions with customers, and how MSPs needed to increase their understanding, particularly in relevance to smaller businesses.
The London event, now in its seventh year, was also a platform for other news: Kaspersky's global product manager Oleg Gorobets made the case for its growing programme for better security among MSPs. But there was a general air of optimism as to the opportunities: the prospect of vast fields of data and an information-rich environment meant new sales and growth for the MSP according to David Groves, Director of Product Management, Maintel speaking on behalf of sponsor Highlight.
And in a useful presentation on building value in a business, M&A specialist Hampleton's director David Riemenschneider pointed to heightened interest in services providers, especially those with security, financial services or automotive expertise.
Picture from the day and presentations for viewing will be made available on the event website http://www.mshsummit.com/index.php shortly.
The second annual Managed Services Summit for Europe has just been announced for May 2018 in Amsterdam.