Submitted by John Garratt on July 14, 2016
While the US may have the advantage of a huge single market for managed services, new international research shows that parts of Europe, especially the UK, are already seeing high returns on analysis of how data is used, and plan to drive this faster than the US.
92% of Managed Service Providers (MSPs) are not using data-driven automation strategies, and as a result, are missing out on benefits such as doubling servicing capacity, serving more complex IT estates as well as achieving 100% ROI. This is the conclusion of a detailed analysis of the IT Service Management (ITSM) industry carried out by LOGICnow, now a part of the SolarWinds family. Data-driven automation is starting to change the course of global ITSM delivery. The majority of the market has already invested in collecting and using data on their customers' IT estates – with the remainder clearly planning to catch up.
A small minority has gone one step further and begun to use the data to power automated service delivery. These few are already enjoying dramatic competitive advantages and most importantly have already seen positive ROI.
The research also shows that of those that have not yet deployed data-driven automation strategies, 85% believe that doing so would offer them a competitive advantage - with some MSPs even saying that late or no adoption of automated processes will lead to them going out of business!
What can automation do for your managed services business without adding to headcount?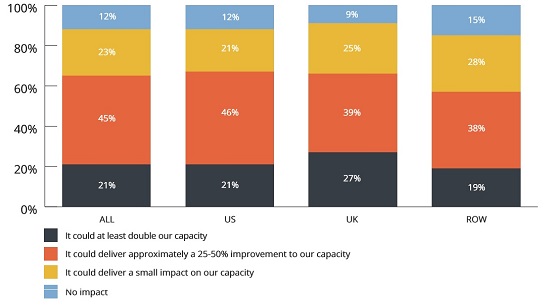 While it is currently a small minority, the returns they have seen are clearly setting them apart from the rest of the market – and the market is not planning to let them run too far ahead. With the expectations of those who are yet to invest roughly matching the experiences of the few who already have, the chasing pack will not be disappointed. This should in turn mean that adoption will accelerate as more and more service providers report the promise of data-driven automation being fulfilled.
Much of this will rely on the introduction of new data analysis skills into the workforce, and as the research showed, this is mirrored also in account management and sales. Recruitment priorities will need to be assessed and most likely changed, quite probably meaning investigating new sources of talent.
Once the tools and talent are in place, the next step is to alter the service provision itself. Service providers will need to examine their current service portfolio and identify where enhancements can be made and where the immediate wins are. A roadmap for transitioning the remainder of the services then needs to be built, with a focus on realism and sensible prioritisation.
These enhancements then need to be reflected in new SLAs and KPIs. And then finally, this competitive advantage needs to be sold. This is potentially where the greatest shift occurs. Sales and marketing will need to learn new messages and how best to articulate them, who to target and how to promote the benefits of the new service.
This is as fundamental a change to the business as transitioning from break/fix to managed services – but potentially even more valuable. This research led to a single conclusion: the ITSM industry is on the brink of an enormous shift. The importance of the use of data is widely accepted and the value of automating actions and recommendations is proven. Few changes in business computing are as dramatic as expected – the evidence so far suggests that data-driven automation is an exception.
Talk to LOGICnow and other experts at the Managed Services and Hosting Summit in September, in London