Submitted by John Garratt on April 2, 2020
Discussions between IT Europa, channel partners, vendors and analysts this week showed channel management getting to grips with the crisis and its issues. In the short term, the plans were to work through the cash-flow issue, with some analysts predicting up to a fifth of smaller businesses in the UK failing in the next month, with consequent impact on their suppliers, including IT, according to the accountancy group Corporate Finance Network.
IDC flagged this up this week in its online analyst discussions. It revised its predictions for the impact of the crisis, saying that it thought there would be a hit of at least 5% on GDP across Europe, perhaps larger.  The IT industry, as a supplier would see this downturn amplified. Worst hit would be external business services and application software as buyers rein in spending. Most likely to see spending flat or rising will be security, collaboration technologies, IaaS and PaaS services.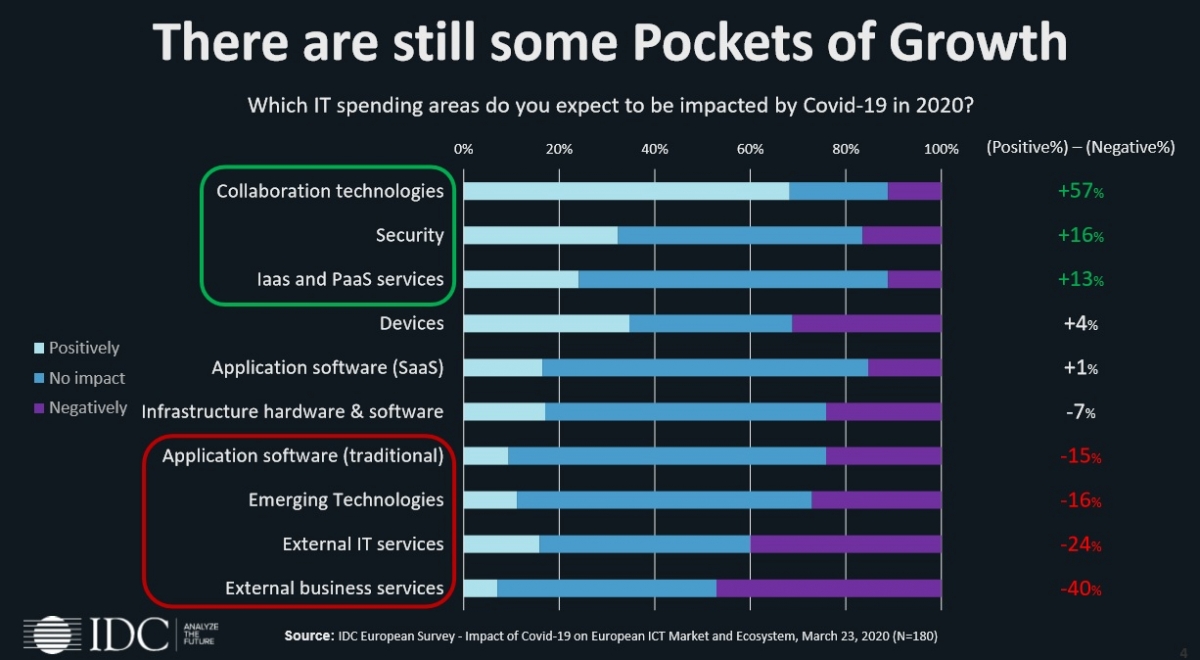 Ironically, IT resellers serving the small business sector saw dramatic rises in sales of devices for use in working from home – display sales, webcams and even printers flew through channels at the end of March. This came as a shock to many: Lexmark told us this week of its surprise by the surge. Martin Fairman UK&I Managing Director at Lexmark told IT Europa this week: "We have been doing well on the IT product line with more enquiries than ever from online traders - customers are buying more printers as they decamp to home offices. This is unexpected, but perhaps part of the massive uptake of laptops etc. I wonder how many habits this will break."
In the wide sense, however, it is impossible to make plans – people are doing day by day rather than even week by week planning.The impact in the longer term is what everyone is thinking about. Will there be a fundamental shift in how IT is used, leading to a much wider move away from centralised office working, with all that it implies for security, data and mobile working?
Rory Duncan, Research Vice President for Cloud Service Providers at IDC says: "This quarter has seen definite evidence of budget spending and "parking" i.e. to avoid losing funds earmarked for later in the year. In the short-term, this provides some gains for everyone, but the focus will be on what it means for Q2: if lockdown restrictions are lifted by June, we could see some significant purchasing at the end of the quarter – no doubt boosted by special "post-pandemic pricing" to stimulate the IT market again. My concern is for Q3– regardless of what happens over the next few months. It's sure to be even quieter than normal, unless people don't take their vacations (and I don't see them doing that after being confined at home!)."
Dan Scott, Innovation and Systems director at MSP Complete IT, talking on a world-wide COVID partner panel organised by ConnectWise reported that telephony had been one of the most in demand sectors in the last few weeks as customers realise their teams could not take calls remotely. "That has been real for a few clients and we have had to move quickly on VOIP services for them. The future will be 'remote by design' - in the way that disaster recovery has risen in importance in the last five years, this discussion will now be expanded outside the premises and servers. In any case, the new generation workforce – as CompTIA research has pointed out - expects to use new tools and be in charge of their destiny. They expect this flexibility. This, and the crisis will change the nature of offices.
"As MSPs, security will continue to be so important, and it is bringing the conversation to us," he said. He advised other channel players to "All those internal projects can now be reviewed. Use the opportunity, however strange times are, to look at ideas such client communication and documentation – where it is recorded and check it is not scattered round various systems. Get client renewals up to date so that nothing is missed. It is important and good for the company and the customer.  We have a very long list of things to work on that will leave us in a better place.
Everyone is agreed on the opportunities – remote working is not going to return to the previous level.  Some channels have these as a separate revenue line. "Everybody is going to want to be ready for the next crisis and behaviours will change, as one US-based reseller said. "People are in survival mode but will want to be more ready next time. The increased cyberthreat is also making people think more about this, says Ann Westerheim of US-based Ekaru.
Webroot's director of product marketing George Anderson: "Crisis is extraordinarily serious – it will hit all of us one way or another."
"A lot of business can be done remotely; but then there is the effect on economies. The increased stress and pressure which shows itself in different ways and represents a sudden major change."
For Webroot this comes on top of a series of acquisitions and company ownership changes – so this is another twist to its story."We will be talking about this and the crisis to our partner base in April, showing that we've not been standing still during the acquisitions. Most of the MSPS we work with have smaller customers – many with under ten people – and these customers may not be working at the moment. The other impact is that the MSP is not getting new monthly recurring revenue, or if they are it is very small. A lot of those MSPs while not exactly hand-to-mouth were working on growth, so there will be a significant impact on our sector."
Probably the larger enterprises are more resilient and are getting government help, he says. If the businesses don't survive, then the jobs are gone as well, so the focus is to put resources where needed.
Many partners have been mothballing their organisations – it will certainly change the landscape, especially in hospitality, but it is clear that there will be a very different IT industry on the other side.