Submitted by John Garratt on May 17, 2018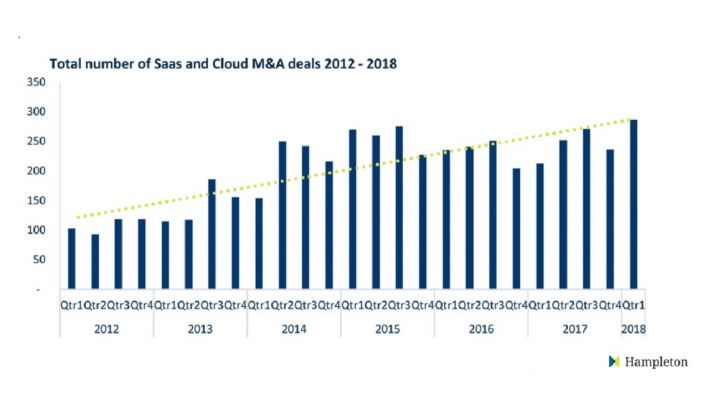 With enterprise applications in demand,  and health-IT and cloud-based cybersecurity targeted by buyers, it has been a busy start to the year.
The latest SaaS & Cloud M&A Market Report, from international technology mergers and acquisitions experts Hampleton Partners, shows that enterprise applications are the driving force behind a bumper start to deal-making in 2018. Deal volumes in the sector rose 27% compared to 1Q2017, with a total of 269 deals, whilst four acquisitions reached the billion dollar milestone in the first three-months of the year,  twice as many as the same period last year.
Hampleton Partners will be presenting on the market for mergers and acquisitions featuring the managed services sector at the European Managed Services and Hosting Summit on May 29 in Amsterdam. 
SAP, Europe's largest software company, racked up the biggest deal in the first-quarter 2018, with its $2.4bn acquisition of sales performance management specialist, Callidus Software, its largest in nearly four years.
The Enterprise Applications segment was up 35%, with 175 transactions. Valuations remained strong and stable, the trailing 30-month median EV/S multiple for the period came in at 4.0x, while the EBITDA multiple inched up to 17x.
Two further bright spots for the sector were the surge in Health-IT M&A deals and the market for cloud-based cybersecurity solutions in the face of increasingly sophisticated cyber-attacks, which are pushing companies and public sector bodies into investing significantly more in their security infrastructure.
Two healthcare deals exceeded the billion dollar mark in 1Q2018,  including healthcare data analytics company Inovalon Holdings buying information technology provider ABILITY Network in a deal valued at $1.2 billion.
Axel Brill, director, Hampleton Partners, says: "The new age of computing is delivering efficiency, cost-savings and speed. This, combined with automation and the increasing consumer acceptance of artificial intelligence (AI) and cloud-hosted voice assistants such as Siri, Cortana, Google Assistant and Alexa, is bringing SaaS and the cloud into the home as well as the workplace.
"These trends, plus our analysis that segments such as Health-IT and Big Data Analytics have a lot more potential, mean that we anticipate deal volumes, as well as valuations, will remain at a high level for the rest of the year."