Submitted by Antony Savvas on January 27, 2023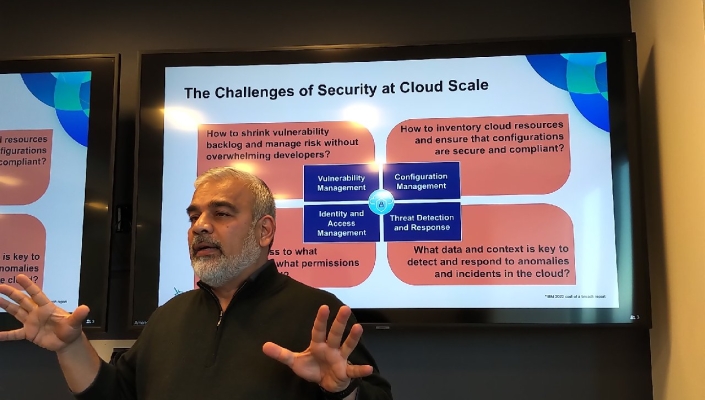 Cloud service management and security vendor Sysdig is potentially re-jigging its channel strategy in response to the changing market.
The company's portfolio includes Sysdig Monitor, Sysdig Secure and the open source security and management product Falco.
The company has raised an impressive $750m in total over the last few years but is still not profitable, and last month made around 10% of its staff redundant to cut costs and respond to the slowing technology market.
On the IT Press Tour of Silicon Valley, IT Europa sat down with Sysdig CEO Suresh Vasudevan (pictured). On the cuts, Vasudevan said: "We over-hired, and way ahead of profitability. With the economic environment the way it is we had to make the cuts, which were mainly in sales and marketing."
On profitability, Vasudevan said: "We have set out a three-year time frame for becoming a public company, and the question of profitability would be part of that decision-making process, in addition to growth and revenue returns, so that gives you an idea of where we are with profitability."
Sysdig has grown to be a key player in the market when it comes to offering streamlined management of customers' data containers and Kubernetes clusters, both on-prem and in a multi-cloud environment.
Over the past year, cloud costs have increased rapidly, making the operation of many Kubernetes clusters more expensive. Vasudevan said of this: "If customers just lift and shift their applications into the cloud without much planning they won't get the right flexibility and performance they are looking for, and costs will be high too.
"Cost optimisation is key as our research shows that the capacity acquired in Kubernetes clusters is not being used, the clusters have been over-provisioned. This is partly down to a lack of expertise available to organisations – which is where we come in."
Indeed, the company recently unveiled its Cost Advisor tool that helps customers choose the right cloud services at the right cost.
On the GTM (go-to-market) going forward, Vasudevan said: "We currently have three channel streams, which we intend to expand. These are the cloud service vendors and their marketplaces, distributors and VARS, and global system integrators.
"We are not necessarily looking to increase numbers of these partners, we are seeking to get more out of the ones we have."
Sysdig uses Exclusive Networks as a distributor in Europe, for instance, although it currently sells a large chunk of it product in the US direct.
One addition to its channel strategy that could happen however is in the security space. "We do look at the MSP space and get asked about it, but we are specifically interested in the MSSP (managed security service provider) channel.
"We may well add MSSPs to our channel strategy, not in a programmatic way, but we may take some on if the right ones comes to our attention."
More from the Tour to come...