Submitted by John Garratt on February 10, 2020
The 2019 SolarWinds MSP Trends in European Managed Services research, just out, shows that managed services are nearly ubiquitous in the channel, with 97% of surveyed partners reporting some form of revenue-generating IT service offering. The increased interest in managed services is tempered, however, by what the MSPs reported as a leveling off of revenue and more modest profitability; and a gap in expertise..
Service providers are being specifically challenged in the areas of security and automation as they strive to improve the value and reliability of their practices, even as they push to scale their businesses to a wider clientele. MSPs are confident in their abilities to deliver basic security solutions and services like antivirus and backup, but lack confidence in more complex offerings like auditing and penetration testing.
Fewer than one in four partners (23%) feel their managed services skills are expert level (see chart)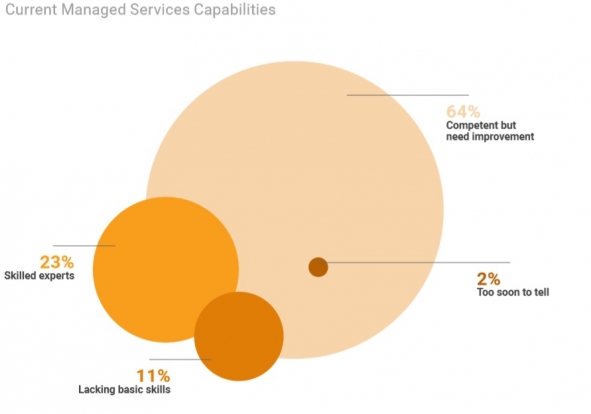 .
Tracking the managed service opportunity from 2017 to 2023 reveals an estimated compound annual growth rate (CAGR) of just over 11%, well above the low single-digit growth of the information technology market at large, the report says.
European channel partners estimate the share of their gross coming from recurring-revenue engagements rose from 30% in 2018 to 34% in 2019.  And this is continuing, with more than 65% of channel partners say they will add more managed services offerings next year.
It is good business: The average profit margin on a typical managed services contract in Europe is 21% to 25%, SolarWinds MSP estimates. Nearly a quarter reckon their margin are greater than 50%, but the sample will include MSSPs where this is to be expected.  Those identifying as systems integrators lag behind the field at 16% to 20% margins. Even at those reduced rates, managed services margins vastly outpace margins associated with transactional hardware and software sales, which remain mired at 10% or less, on the average.
Most solution providers still rely on time-tested—if lower-profit—offerings such as device management (91%), server management (86%), email services (80%), network management (77%), and service-based backup and disaster recovery (BDR) (70%).
Hosted storage services also rise above the midline at 64%, as does communications and collaboration at 52%.