Submitted by John Garratt on March 21, 2018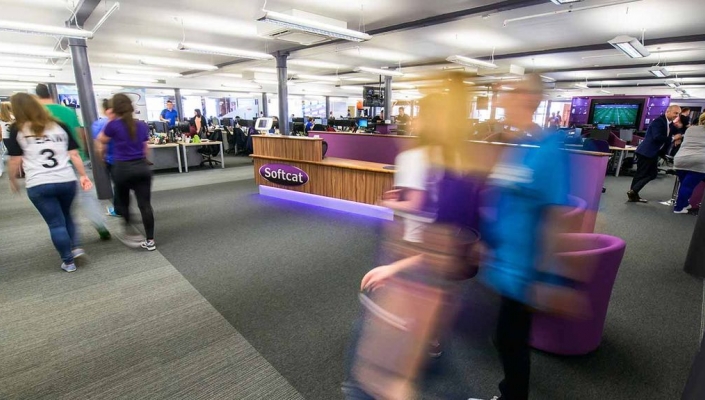 Softcat's first half revenue jumped 25% year on year to £472m for the six months ended 31 January. Gross profit was up 22% to £75m and operating profit went up 15% to £24m.
The VAR said customer numbers grew 6%, and that gross profit per customer was up 15%. Martin Courtney, an analyst at TechMarketView, said: "This indicates that Softcat is doing a good job of upselling additional products and services to its existing client base."
The company also remains debt free with a cash balance of £43.3m. "This is impressive considering the opening of a new office on the south coast in October and an expansion of its Manchester premises," said Courtney
The second quarter of 2018 also represents Softcat's 50th quarter of successive growth. Courtney said: "The primary aim of new chief executive Graeme Watt - who takes up the role in April - will be to continue that momentum after Martin Hellawell ends his 11 year tenure to become non-executive chairman."
The first six months saw double digit revenue growth across all of Softcat's business lines and customer segments. Turnover from hardware sales grew 30% year on year to £165m, software was up 24% to £240m, and services rose 16% to £68m during the six months. Demand for cyber security products and services from public sector and corporate clients was said to be particularly strong.
The company also reported significant interest in its data storage and compute solutions to support analytics and business intelligence provision, partly driven by the need to audit, classify, process and store information in preparation for the EU's forthcoming General Data Protection Regulation (GDPR).
Martin Hellawell, Softcat CEO, said: "We are benefiting from strong market demand for all our offerings and from all our major customer segments and continue to relentlessly pursue our simple strategy of doing more business with our existing customers and winning new customers.
"These latest results further demonstrate that this strategy is working and I'd like to thank our fantastic people for their great work and dedication to customer service."
He added: "We've continued to scale up all areas of our operations while adding further depth to our technical expertise. This has enabled us to continue winning hundreds of new customers as well as developing existing relationships and cross-selling additional product lines and services. As a result, we added 600 new customers in the period while gross profit per customer grew by more than 15%."
There will be a 14% increase in Softcat's interim dividend. Hellawell said the second half of the year has "started well".