Submitted by Antony Savvas on June 7, 2023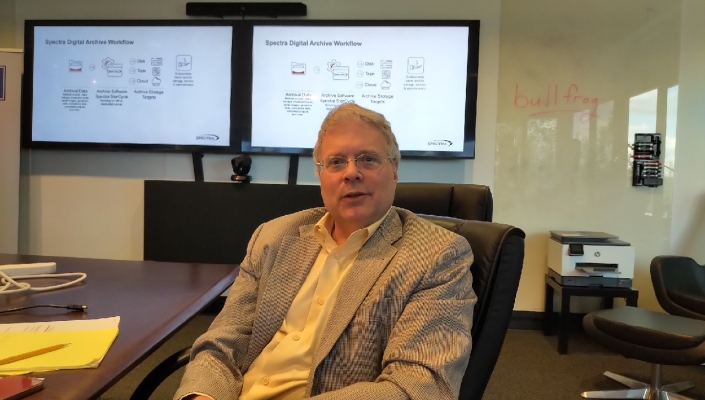 Spectra Logic is continuing to expand its channel in different directions, as data users carry on relying on good old tape machines to store the data they simply can't delete.
Boulder, Colorado-based Spectra Logic says 90% of its sales are generated through the channel, and its storage software and hardware systems continue to be a feature at the back-end of the cloud world.
The company has made sure of this by "following Amazon", it says. Amazon Web Services, for instance, allows companies to store, manage and access their data in the "cloud", but a large chunk of this data is often stored in on-premise systems, not in its hyperscale data centres.
This is where Spectra Logic comes in with its disk and tape solutions. Not all data is "hot" - it doesn't need to be available to end users at companies within milliseconds. Much of it is "warm" or "cold" data, that can be stored in lower-end servers or on traditional tape machines that can deliver the data in a much slower but efficient way, and on-demand.
Much of this less important data is not regular operational information, and is only stored for possible legal reasons or is a backup of data stored elsewhere, for instance, and only needed in an emergency.
While AWS offers its S3 data service through the cloud, a subset of this service is the Glacier offering which covers cold data. But why pay Amazon for a service to store less important data, when you can store it yourself in a system that is tied to the access for hot data that is stored in the AWS cloud.
Spectra Logic says it is increasingly seeing its partners generate new business in this arena using its Black Pearl S3 and On Prem-Glacier systems. On the IT Press Tour of Colorado and Silicon Valley this week, which IT Europa is attending, the company cited one example at a US energy firm combining actual S3 hot data access in the cloud with access to cold data stored on-premise.
As far as the employees were concerned, everything they were looking at through the Sprectra Logic Amazon cloud interface was in the AWS cloud, when it wasn't.
This deal was generated by a Spectra Logic partner, and many more of them are on the table, said the firm.
Spectra Logic CEO Nathan Thompson (pictured) said: "It's a market that is developing and is often led squarely by our resellers, while some of them need some hand-holding from us to make sure things go without any hitch."
Other high-end data vendors are also being brought into the Spectra Logic channel sphere too. Arcitecta can't be described as a "start-up", despite its modest size and hardly anyone having heard of it.
The company was actually formed in Australia in 1998, which is a long time to be in stealth mode. It has some high profile clients in education and also works with "security sensitive" government agencies.
Its representatives on the IT Press Tour made it plain they hadn't, up to now, put hypergrowth at the top of its company agenda. Which is just as well, as after 25 years in existence, its turnover is less than $10m, and it only employs about 35 across Melbourne, Munich and Denver.
But the direction now is north, with sales expected to ramp up with the firm's avowed intention to "talk about ourselves more", and use Spectra's channel to reach more customers after the two companies recently formed a go-to-market alliance.
At the moment, one of Arcitecta's sweetspots is stepping in after organisations' current data set-ups fail, deteriorate or face support difficulties when other providers leave the market.
The company helps customers get back on the right path with the help of its own specially developed tools, including its XODB database and S3 protocols, for instance, along with its Mediaflux big data management system.
More from the IT Press Tour to follow...