Submitted by John Garratt on September 20, 2019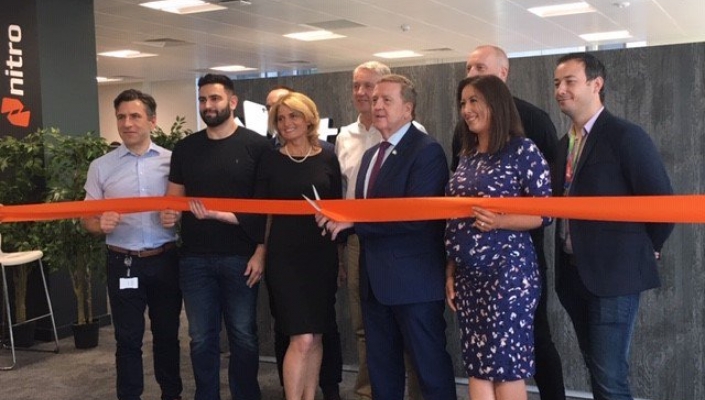 Electronic document management vendor Nitro has opened a new EMEA headquarters in Dublin to double its headcount in the Republic to 140.
The San Francisco-headquartered firm's new Irish base is centrally located along the banks of the Grand Canal in Dublin 2. Nitro established its first office in Dublin in 2013 with just three employees and has since rapidly expanded. In 2014, Nitro's leadership team committed to creating 50 new roles in Dublin within the first two years of operation and it now employs more than 70.
The new office space allows the company the capacity to create 70 additional jobs over the next two years, supporting Nitro's ongoing commitment and investment in the EMEA region.
Speaking at the official opening of the new EMEA headquarters, minister for trade, employment and business, Pat Breen, said: "This new space will allow the company to double their headcount which will set them up for their next stage of their growth. I wish them well in their new home."
The EMEA headquarters plays a central role in the company's global business strategy with every function of the business represented on Irish soil. Katie Banks, director of people and workplace at Nitro, said: "We want this HQ to represent Nitro's continued commitment to our EMEA operations and Dublin."
Nitro says it helps firms of all sizes to eliminate paper, accelerate business processes and drive digital transformation by providing PDF productivity and eSigning solutions through a single platform. Founded in 2005 in Melbourne, Australia, Nitro has offices in San Francisco, Dublin, London and Melbourne.
Picture: Pat Breen (centre) cuts the ribbon on the new HQ