Submitted by John Garratt on August 2, 2018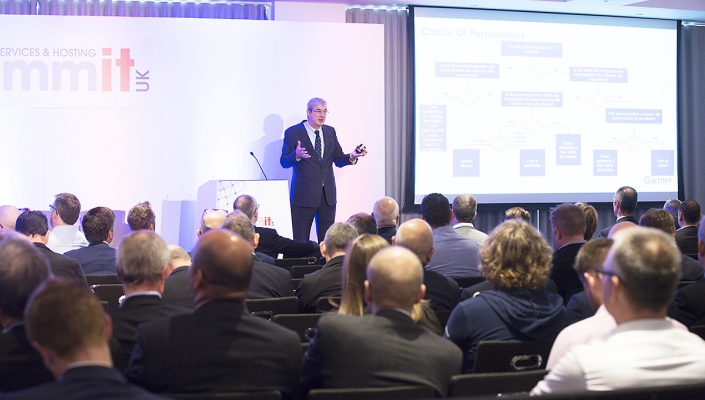 Managed Services cannot be sold on price, as many MSPs are finding out. The emphasis in the industry has moved away from explaining the concept and into a competitive race to provide real solutions. But in a market with a plethora of information and content with inadequate information, how do customers decide between services and service providers?
In a new major theme, the UK Managed Services and Hosting Summit 2018 on 19 September in London (www.mshsummit.com ) will look at how the industry is getting more sophisticated in its approach. With Gartner's popular keynote (pictured) kicking off the day with insights into customer expectations, a second keynote from two experienced marketeers, Jim Bowes, CEO and founder of digital agency Manifesto, and Robert Belgrave, chief executive of digital agency hosting specialist Wirehive will look at what the industry needs to do to talk to its customers properly.
As another key aspect of the event, now in its eighth year, is the direct experience of the MSPs themselves, so attendees will hear about Mitigating Risk from Andrew Evers, Head of IT, Reconomy on behalf of Watchguard, and about Security and the MSP from Paul Colwell, Technical Director , OGL on behalf of Kaspersky Lab. Other MSPs will also be presenting and discussing their real-world experiences.
The third keynote will be on the all-important topic of building value in the business with merger and acquisition activity high in the managed services sector and consolidation being driven by a fight for skills and for scale. Technology M&A experts Hampleton's director Jonathan Simnett will point out the opportunities. He says that in the last year, financial investors have returned to tech company buying and this was driving up valuations in certain sectors, including automotive tech and e-commerce.
As an additional attraction and building on the momentum of the highly successful series of Managed Services + Hosting Summits, which have taken place in both London and Amsterdam over the past eight years, the event's co-organisers, IT Europa and Angel Business Communications, are launching the Managed Services & Hosting Awards to recognise excellence within this dynamic, innovative ICT sector.
The inaugural MSH Awards will take place at September's UK Managed Services & Hosting Summit in London, providing a great way to bring to a close what promises to be another must-attend event.
MSH Summit London agenda 
MSH Awards information (deadline 24TH AUGUST 2018) here