Submitted by John Garratt on September 20, 2018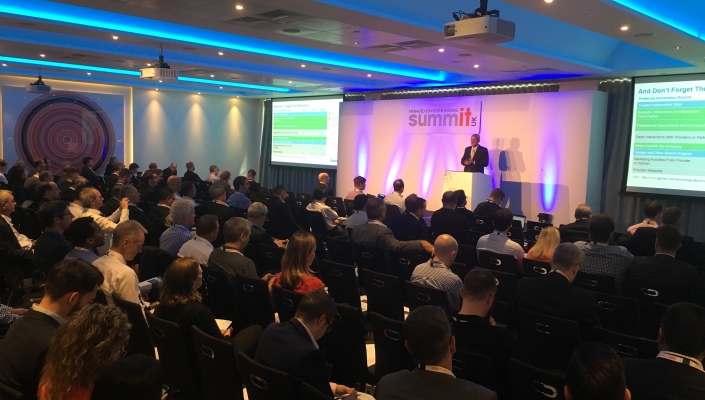 Managed Services providers have to take some tough decisions in order to avoid being pulled in all directions. Because of the similarity of many offerings, and the challenge of public cloud mass-market providers, they may feel tempted to try to supply all types of customer with every form of solution, and find themselves trapped in a competitive race to the bottom. At the same time, their over-stretched resources will not be able to maintain standards.  This is the challenge for managed services in 2018.  
The eighth annual Managed Services Summit provided the forum for debating these issues and more. MSPs heard from experts including Gartner's research director Mark Paine (pictured) who told several hundred attendees: "The key to a successful and differentiated business is to give customers what they want by helping them (the customer) buy". He then focused on how addressing the MSP customers' customers may well be the way to show alignment and engagement. "If you show clients your plan to grow together, they will see you as on their side."
The need for focus and concentration of expertise was shown by a lively presentation from two experts from the rising digital marketing side of managed services.  One way to win more customers is by showing them their place in the future, according to Jim Bowes, CEO and founder of digital agency Manifesto, and Robert Belgrave, chief executive of digital agency hosting specialist Wirehive. They showed how they use the power of engagement and marketing ideas to build a commanding position in their chosen sector. Which means it's time to ditch the old marketing models built on email lists and dry whitepapers. It's time to get agile, personalised highly effective customer communications.
A highly effective part of the morning sessions was hearing from the experiences of MSPs themselves and looking at established winning ideas; for example, Tim Walker of year-old MSP Aura Technology revealed how an understanding of market and a tight focus on customer requirements led his management team to form their business.  Other MSPs told their stories on how they use managed security services, how to position data security and backup, and how they work with customers to keep their lights on.
The lunchtime focus sessions and afternoon breakouts dealt with more specialist technical and sales approach-based subjects, with GDPR a topic which is a continuing point with customers, the changing cybersecurity threat one with which all MSPs must be familiar. Aspects of MSP management were always under discussion as the sector continues to try to increase its efficiency with the use of tools and simpler and more effective management systems of all types.
Winding up the busy day, technology M&A experts Hampleton Partners showed why activity is at a high, with director Jonathan Simnett highlighting areas of the market such as e-commerce where high multiples were available. But he also showed the need for expertise and understanding, since some attractive areas such as healthcare were also characterised by long sales cycles and compliance issues.
As content director John Garratt, editor of IT Europa said at the start – in interesting times, particularly in the UK with an impact from the general economy and Brexit confidence issues, the watchword has to be building efficiency and learning the lessons from others. Which is what the series of Managed Services and Hosting events is all about.
As a demonstration of winning ideas, the first ever Managed Services Awards, directly after the event, named seven examples of projects and suppliers with outstanding examples and effective results.
The next event will be the European summit, in Amsterdam in May 2019.