Submitted by John Garratt on July 10, 2019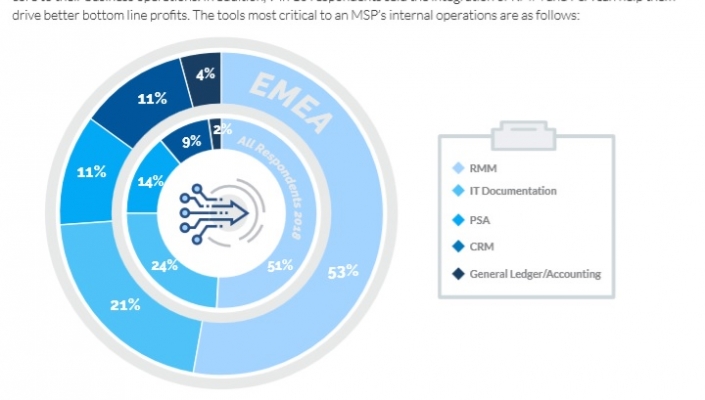 The MSP market has reached a tipping point, says the 2019 Kaseya survey of managed services providers. Differentiated offerings are now driving more growth than traditional break-fix and basic monitoring services.
It also found that high-performing MSPs are not necessarily the biggest, but rather those that are savvier and bring more services on the table. Top performing service providers are ditching conventional models and choosing to compete on their strength rather than focusing solely on cost and repackaging the same old functionality.
Especially in EMEA, compliance is being taken more seriously than ever before as MSPs take a range of readiness approaches, which might be partly driven by the risk of incurring stiff non-compliance fines. Security continues to be a perennial concern, and in-demand infrastructure services are opening new doors to recurring revenue.
In the details, desktop, server and network support are ubiquitous, and are offered by 91% of MSPs surveyed. The top three underlying services that shows maximum growth in EMEA compared to last year are:
Mobile Device Management: Either in the form of corporate owned endpoints or as personal devices, mobile devices continue to flood the corporate networks. These devices house an astonishing amount of personal and corporate data; the responsibility of securing which lands upon the shoulder of the IT admins. Which explains the steep 18% rise in the demand of mobile device management services in EMEA compared to last year.
Enhanced Network Performance Monitoring: It comes a quick second in EMEA showing an 11% rise in demand compared to last year. MSPs are waking up to the fact that pro-active monitoring not only enhances their ability to forecast points of infrastructural failures but also lets the technician immediately respond to any crisis.  The result? Safer endpoints, happier clients and higher revenue.
Identity Access Management and Security: Protecting information is only half the picture, making it easily available and accessible is the other half. Thanks to the cloud tech, clients want their data readily available — irrespective of the users' location or device. To ensure only authorized personnel can access the data, it is critical to have a robust password management mechanism. The rise in demand for such services continue to show a positive sign of growth showcasing an 8% growth compared to 2017.
Onsite-to-cloud backup is on a roll across all geographies. There has been a huge increase in MSPs offering onsite-to cloud backup from 2017 to 2018, the survey suggests.
And Kaseya was surprised by the steady rise of appliance-based backup. Appliance-based backup grew from 15% to 27% in EMEA. Other geographies also saw growth: In the Americas appliance-based backup grew from 33% in 2017 to 43% in 2018, and in APAC from 10% to 34%.
It attributes this to the higher margins it offers MSPs, presenting yet another opportunity for growth. On pricing models, the survey suggests that as MSPs move away from relying on break-fix services, the impact is being felt across the industry, particularly in how MSPs set pricing. MSPs are split down the line between per-user and per-device pricing. 
Both per-user and per-device usage showed equal popularity as 23% of respondents in EMEA said more than half of their customer base are charged on either one of these pricing models