Submitted by John Garratt on June 2, 2020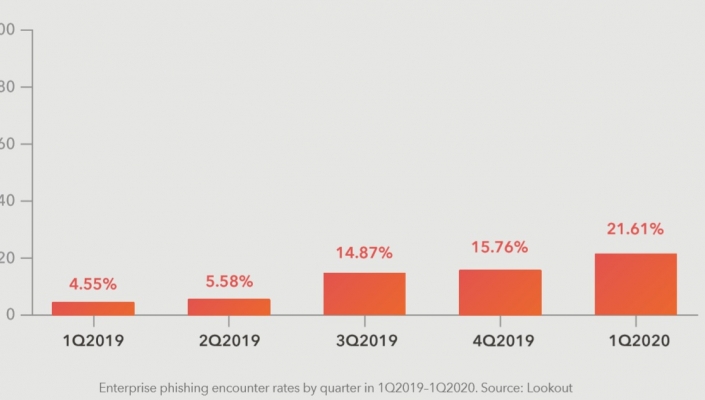 Quarter over quarter, there is an upward trend in mobile phishing over the last 15 months, says security specialist Lookout in its latest research. Most notably, there's almost a 6% jump from 4Q2019 to 1Q2020. This is largely attributed to phishing campaigns centered around COVID-19, and shows that malicious actors take advantage of current events to phish victims.
Looking at the numbers, which are based on real-world encounter rates with mobile phishing attacks, there is likelihood of significant financial damage to a company at the hands of just one employee mistakenly giving an attacker access to the enterpirse. A successful mobile phishing attack can have a multitude of negative effects on a company beyond just financial loss. The hit to brand reputation can be highly disruptive, especially in a highly regulated industry like financial services, legal, or healthcare that loses highly sensitive customer information, it says.
This is a problem set to get worse. Gartner predicts that "By 2022, 75% of smartphones used in the enterprise will be bring-your-own-device (BYOD), up from 35% in 2018." This shift means more people will use a personal device to access corporate data, which could lead to more careless data handling, app permissions being granted accidentally, and greater risk to the organization if the right security measures are not in place.
The report contains examples of phishing and estimated loss by the victims in key verticals. Get the report here