Submitted by John Garratt on September 17, 2020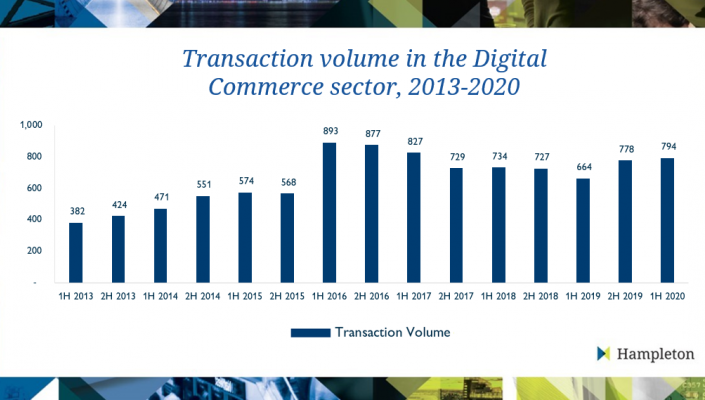 A Digital Commerce M&A market report reveals that after reaching peak transaction volumes in 2016, the sector saw renewed impetus in the first half of 2020 with 794 deals, says Hampleton Partners, the international technology mergers and acquisitions advisor, 
The overall digital commerce sector saw an uptick in disclosed transaction value which reached a healthy $61bn, with the median disclosed transaction value over the past 30 months at $20m. 
The most significant increase in deal volume was within the Internet Services & Platform Solutions* segment, with a record 370 deals, accounting for 47 per cent of the total volume of digital commerce transactions in the first half of 2020. The largest deal in this segment was the planned Morgan Stanley acquisition of discount brokerage and online trading platform E-Trade for $13bn, which gives Morgan Stanley access to new sources of revenues and an additional 5.2 million customer accounts and $360 billion in assets. 
In the same segment, edtech platforms are growing very rapidly. At the WHO's announcement of the pandemic, education app downloads worldwide surged 90 per cent compared to the weekly average in Q4 2019. A few months later, Chegg, which specialises in textbook rental and tutoring, acquired Mathway, a highly-rated maths education app for $100 million.
Other platforms to benefit included payment platforms, with Visa's acquisition of Plaid for $5.3bn.
Ralph Hübner, Sector Principal, Hampleton Partners, said:  "The 2020 coronavirus outbreak is a once-in-a-lifetime catalyst driving digital transformation. This pandemic-generated shift to online will continue, as all players – including the less traditionally 'digital' ones like governments or schools – continue to invest in digital alternatives. In addition, many e-commerce and direct-to-consumer brands are benefitting from unprecedented levels of business.  
"Where brands and retailers do not have the time to build their digital capabilities from scratch, or simply catch up with the accelerated digital economy, they will continue to buy time and consumer access through M&A. 
"Key trends such as social media commerce, marketplace business and mobile commerce will continue to gain momentum and we anticipate that digital commerce targets which promise a bright future will be the target of growth investors – whether private equity or venture capital firms – as well as strategic buyers, as all buyers grapple with fewer investment alternatives more generally. This will keep digital commerce multiples high."
Hampleton's Digital Commerce M&A report analyses transactions, trends and activity across the following segments: Internet Services & Platform Solutions; Online Retail; Media, Social & Gaming, Agencies & Service Providers; and Digital Commerce Software.  
Download the full Hampleton Partners' Digital Commerce M&A Market Report 2H2020 here