Submitted by John Garratt on September 11, 2019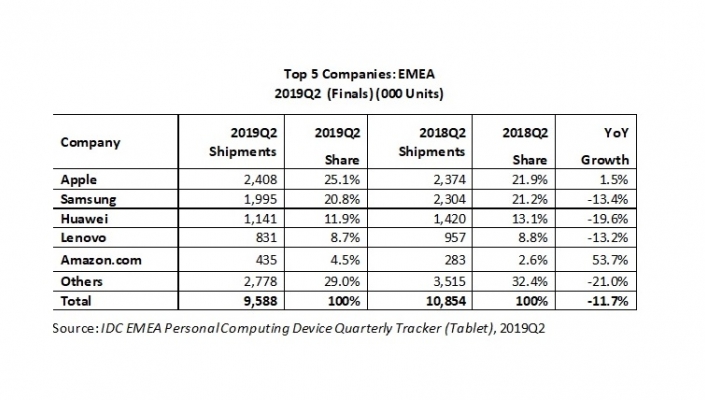 The EMEA tablet market declined 11.7% yr/yr, shipping 9.6 million units in Q2 2019 according to the latest figures published by IDC. The ongoing erosion of consumer demand for slate tablets remains the primary reason for the contraction, and a lack of innovative features and the increasing range of devices in the market are inhibiting tablet renewal. The good news for Q2, however, is the strong performance of detachables, which increased 11.8% after two years of consecutive quarterly declines.
"The expectation of a detachable rebound in the market was finally realized in Q2 and on a bigger scale than anticipated," said Daniel Goncalves, senior research analyst, IDC Western European Personal Computing Devices. "This was mainly driven by shipment pull-in of the freshly released iPad Air, a budget alternative to the iPad Pro and a contender to the Surface Go in the midrange tablet market with keyboard capabilities that have the potential to become a back-to-school winner."
The overall tablet market in Western Europe declined 6.6% YoY in 2019Q2, while Central and Eastern Europe, the Middle East, and Africa (CEMA) declined 18.7% YoY. "As content consumption tasks performed by consumers have moved to bigger screen size smartphones, 7in. and 8in. tablets become less relevant," said Nikolina Jurisic, product manager, IDC CEMA.
Apple retained market leadership in EMEA, with the help of a buoyant detachable quarter and the resurrection of the mini. Samsung declined but continues to push its higher-end Android tablets across the region, highlighting its greater focus on profitability. Huawei contracted as the shockwaves from the ban in the US intensified in Q2 and had a negative impact on the brand's consumer confidence, particularly in Western Europe. Huawei held on to third place, however, and gained leadership in the CEMA region. Lenovo, continuing to shift its focus from tablets, posted another sharp decrease. Amazon updated its affordable Fire tablet range ahead of Prime Day, boosting its shipments in Q2.