Submitted by John Garratt on November 25, 2020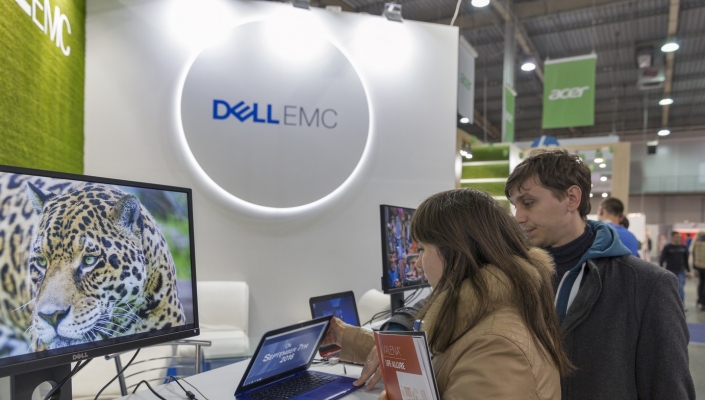 Dell shares are trading up 3.1% following good Q3 results with pandemic-driven strength in consumer sales and better than expected operating margin considering the quarter's product mix.
Client Solutions Group revenue was up 8% to a record $12.3bn in sales, strongly above the $10.8B consensus. Consumer revenue was up 14% to $3.5bn. Commercial client sales increased 5% to $8.8bn.
Infrastructure Solutions Group revenue totaled $8bn vs. the $7.9bn consensus.
VMware revenue was up 8% to $2.9B, topping the $2.81bn estimate.
Adjusted EBITDA totaled $3.2bn vs. the $2.65bn consensus.
Gross margin was 33% and in-line with consensus. Operating margin was 12%, above the 9.7% estimate. Note that Dell had warned a higher than usual mix of low-cost Chromebooks could put pressure on operating margins this quarter.
"Technology has never been more important, and as the world evolves, so does our business," said Jeff Clarke, vice chairman and chief operating officer, Dell Technologies. "We met unprecedented demand for remote work and learn solutions this quarter while increasing revenue to $23.5 billion. At the same time, we accelerated our as-a-Service strategy and hybrid cloud capabilities at the edge – positioning us to win in these growing markets and making it easy for customers to manage data and workloads across all their operations."
In October, at Dell Technologies World Experience, the company announced the expansion of its as-a-Service capabilities with Project APEX to simplify how customers and partners access technology on-demand – across storage, servers, networking, hyperconverged infrastructure, PCs and broader solutions. Project APEX will unify the company's as-a-Service and cloud strategies, technology offerings, and go-to-market efforts. Businesses will have a consistent as-a-Service experience wherever they run workloads including on-premises, edge locations and public clouds.