Submitted by John Garratt on October 22, 2019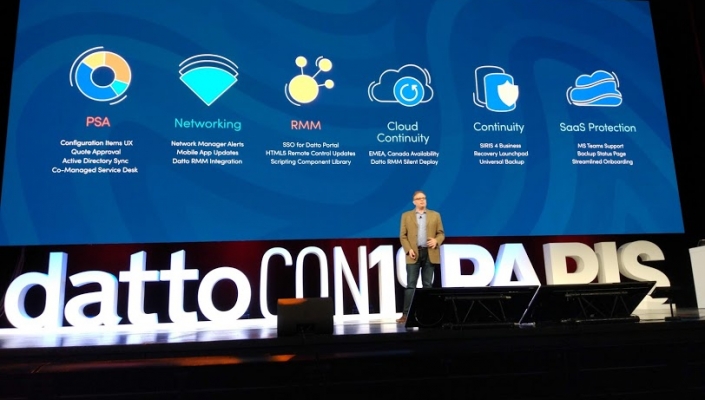 Datto CEO Tim Weller (pictured during keynote) says he is under pressure from his board to boost the level of R&D as the company continues expansion to meet demand across its increasingly integrated product range. After a very technology-focused keynote, he spoke to IT Europa at the DattoCon19 event in Paris which attracted hundreds of MSPs from across Europe and the southern hemisphere.
MSPs are increasingly asking about security, he says, since this is what their customers are asking about. "But then, when customers are asked for an extra $20 a month, they say 'we didn't know we need *that* kind of security'", so there are sales objections to be dealt with. It is ten times easier to sell to those who have lost data. "People have not yet digested that the dark web is a business and set to grow."
"Our focus is on keeping our own house in order, and to help MSPs with their security." Continuity remains the right first answer to these questions. "Datto has been a proxy for security and a security story, and I think the MSPs that are growing know that security is key."
"I'm intrigued with the idea of connecting insurance to the technology." 
What else keeps him awake at night? "Security for sure, though I have a great team there, and operational challenges now that we are the largest pure play MSP vendor by quite a wide margin."
"We are investing in local leadership and have people who are experienced in billion-dollar plus companies. I can't micro-manage it."
Europe remains the company's prime target for growth with the UK established as its leading market, but opportunities are opening up in the Nordics, especially for cloud-based continuity.
He announced the opening of a sales office on Copenhagen at the event. The next meeting, DattoCon20, will take place in Berlin with Germany regarded as a market ripe for expansion beyond the RMM and basic continuity products, as is Benelux.
And although the company, because of its scale, can only look at areas of activity which generate large revenues, it will consider more acquisitions, he says, having been relatively quiet since its purchase of Autotask two years ago. The particular areas it is looking at include security, imaging and VOIP.