Submitted by John Garratt on November 25, 2019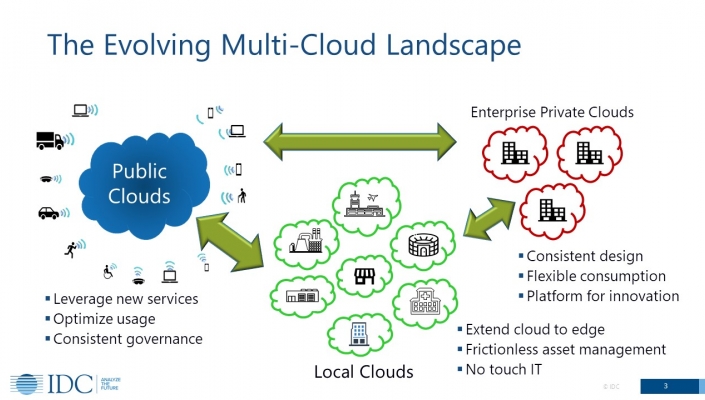 The market for data networks is not all going to public cloud. There are certain workloads that make sense either in private cloud or on prem or in hosted private cloud.​
IDC surveys show that enterprises believe that more of their applications belong in a private environment than in a public cloud – by a factor of 3:1. Only around 25% of workloads belong in public clouds, while the rest are better suited to private infrastructure, whether enterprise owned data centers or, increasingly, hosted private clouds provided by cloud and managed service providers (CSPs/MSPs).
Learn more with this in a webinar recorded earlier this year here where IT Europa Editor John Garratt talks with Jay Gill, Pluribus' senior director of marketing and Rory Duncan, Research Vice President at IDC about the changes in the market for multi-cloud services.
Though customers favour private environments for most of their workloads, both enterprises and CSPs/MSPs know they have to transform to stay competitive and that includes building highly efficient private cloud infrastructures. The question is how do they do it and in particular, how they can do it with limited staff?
This management issue is increasingly important among MSPs in particular. Jay Gill notes: "The key theme from customers we talk to is that need to get more efficient in the way they operate their cloud infrastructure so they can move the staff onto more valuable things."
"The challenge is that all these companies who need to move to an automated SDN-driven solution have not done so to date because it has previously been too complex and costly. Only hyperscale clouds and very large enterprises have been able to make it work. What we at Pluribus are offering is a highly integrated approach that puts data center network automation within reach for a mid-market enterprises and smaller service providers."
Customers are looking for full-stack automation, says Mike Capuano chief marketing officer at Pluribus, but it must be cost-effective which means integrating open white box switching, SDN automation of the physical network, software-defined network virtualization and built-in analytics. "The hyperscalers have done this with large IT teams who have deployed and integrated a lot of extra hardware and software. What Pluribus has done is to bring it all together where all automation software runs on the switches customers are deploying anyway, and unified it in one package that works out of the box. This "controllerless" approach works well because there is no extra integration and it is cost space and power efficient for smaller sites. And the distributed architecture makes it good for multi-site operations."
This is a solution for hosting and cloud providers who are building out private cloud infrastructure as part of their multi-cloud services. "We see strong support for the idea that people want to locate more workload in private cloud and these are shifting to colocation and data centres. This is where there are opportunities for cloud service providers to grow," says Mike Capuano.
Capuano cites service providers who have adopted Pluribus solutions, including Econocom, deploying its Naboo cloud based on Pluribus, and the Amsterdam Internet Exchange (AMS-IX), a provider of high-quality interconnection services to a wide range of businesses worldwide, which has deployed Pluribus' Netvisor ONE operating system and Adaptive Cloud Fabric, along with Dell EMC Open Networking hardware, as part of a multi-site network modernisation project.
Pluribus and Dell are also helping mid-market enterprise customers modernize. Capuano notes, "We have a number of new deals we are about to announce in Europe. As an existing example, open networking with Dell hardware and Pluribus Networks software has enabled Italian kitchen maker Scavolini to upgrade its data centre environment while increasing flexibility and reducing acquisition and operational costs".
Mike Capuano: "There is a two-pronged strategy to distributed cloud and SDN with Pluribus Networks:  service providers like Econocom and mid-market enterprises like Scavolini are both solving a problem – and can both be tied to digital transformation and the realisation that that this does not mean everything going to public cloud."
What Scavolini is doing is taking two data centres and a campus aggregation and automating the network fabric with the idea of being more agile and using a smaller IT staff, he says. Econocom is saying to customers that they can place workloads on prem, or offer the Naboo cloud where they are not taking data to the public cloud, but still need a more secure cloud where they know all data will stay within the borders of Italy.
"In all cases, whether it's a service provider offering or an end-user, the private cloud foundation has to be software defined and the network is typically the hardest part of that. So that is what Pluribus is solving."
The common elements are automation and doing more with a small team. Investing in cutting edge technology that automates the business lets small, nimble IT teams operate multi-site data center networks efficiently. Econocom has four data centre locations expanding to six, Scavolini has two data centres locations linked to a multi-site campus network.
Jay Gill: "We really do shine on these type of multisite data centre networks, but we have a good value proposition for small single-site data centres as well. We are highlighting how we collapse a lot of functionality into an integrated package and automate things in ways others can't. We automate the virtualized network overlay and the physical network underly and include built-in  monitoring and analytics that normally require extra equipment. In a webinar earlier this year (link) we emphasised how all of that functionality is delivered in software that runs directly on open networking, or 'bare metal' switches, eliminating the cost and complexity of external controllers."