Submitted by Antony Savvas on March 31, 2023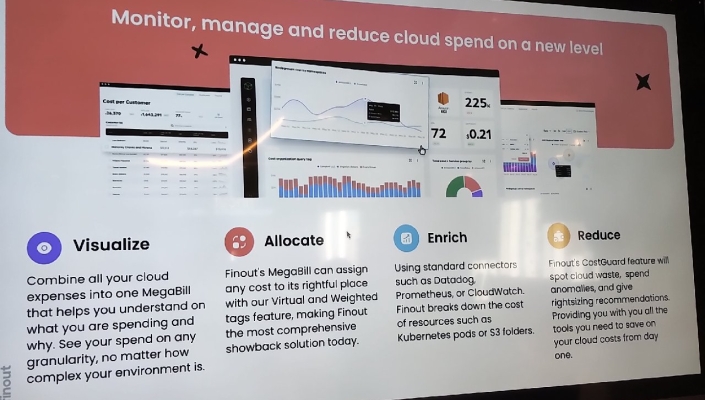 Continuing our coverage from this week's IT Press Tour of Israel, IT Europa took a look at what Finout had to offer.
With the SaaS and cloud services market burgeoning, organisations are drowning in a sea of multiple bills, struggling to understand who ordered what service and who is using it.
With cloud costs rocketing up, and some organisations even considering moving some services back on-premise in an attempt to get a greater grip on costs, Finout came out of stealth last year to help companies improve their FinOps (financial operations).
The vendor's technology allows customers to combine all invoices across various cloud providers, such as AWS, Datadog, Kubernetes, Snowflake and Google Cloud Platform, into one centralised MegaBill, helping them understand what they are spending and why.
The MegaBill can assign any cost to its rightful place using the supplier's Virtual and Weighted tags feature. And using standard connectors from the likes of Datadog, Prometheus or CloudWatch, Finout breaks down the cost of resources, such as Kubernetes pods or S3 folders.
Finout's Costguard feature will also spot cloud waste, alert on spend anomalies and deliver right-sizing recommendations.
This all enables an "unparalleled" view of cloud spend in seconds, says the firm, helping FinOps, DevOps and finance departments reduce time on data gathering and analytics, and potentially reduce spend and increase profitability across business units.
The company will be attending big Kubernetes shindig KubeCon in Amsterdam next month, and is expected to make some product update announcements at this event.
It also confirmed it is looking for new resellers and MSPs to help it expand its service reach across Europe.
Companies moving into the cloud cost observability platform space are increasing in number.
Sysdig has grown to be a key player in the market when it comes to offering streamlined management of customers' data containers and Kubernetes clusters, both on-prem and in a multi-cloud environment.
Over the past year, cloud costs have increased rapidly, making the operation of many Kubernetes clusters more expensive. The capacity acquired in Kubernetes clusters is often not being used, as the clusters have been over-provisioned. This is partly down to a lack of expertise available to organisations.
This is why Sysdig recently unveiled its Cost Advisor tool that helps customers choose the right cloud services at the right cost.
And Amberflo is a startup squarely in the billing and metering space. Amberflo's software can be used by both service providers and their end-customers to make sure cloud bills are easier to understand and accurate.
Both these companies were visited by IT Europa on the IT Press Tour of California this January.