Submitted by John Garratt on November 27, 2019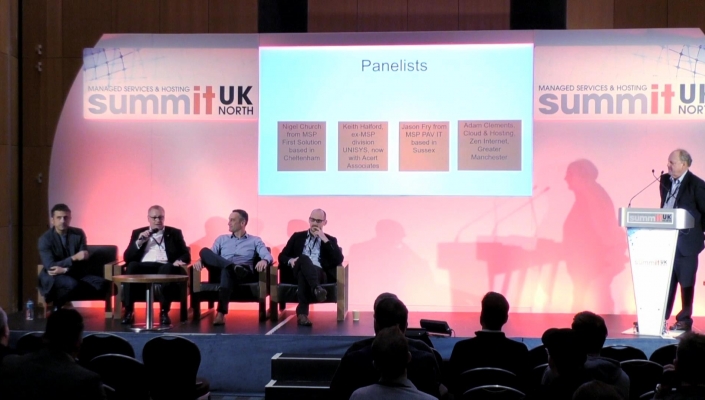 MSPs can build value, but the issues are customer relationships and getting them to use the technology they already have.
A lively panel at the Managed Services and Hosting Summit Manchester on October 30 gave some useful ideas on meeting current customer challenges: Nigel Church from MSP First Solution: "We're speaking to more customers about digital transformation and enablement processes, and we have seen a shift, starting with conversations about cloud and then going onto business strategy."
His issues are around bringing on new customers and this is where he is spending 80% of his time, and he has others working on this as well. "When you are adding new customers each month, things become easier, growth happens, and difficult customers become less difficult."
Jason Fry MD of PAV Services is on earn-out, having sold his business in July 2019, and has seen it transition from reseller to MSP and has "done every job in the business".  
The biggest challenge today, he says, is that customers are facing so many pressures -  from competition and financials, from lots of other areas and it requires them to be very agile and adaptive in their own businesses. "IT means we have to be complementary to that and support that need to pivot and be agile. Projects change even in mid-stream and MSPs have to react positively."
It means they [customers] have to think about budgets differently as well. "The old 3-5 year project cycle has changed and we have continuous delivery of new features. It is a great time, with all the functionality available, but they need a proactive MSP partner behind them."
Keith Halford was a Unisys MSP specialist and has moved into the small business world with Acert, a niche consultant supplying expertise to small organisations in transition. He is developing relationships with MSPs who are short of skills. He has been working with an MSP recently on producing bids for NHS business and helped them build a big team. Pipeline again is an issue for him – the hardest thing about the consultancy role is winning the next engagement.
What builds value in an MSP? Adam Clements from ISP and hosting specialist Zen Internet has seen a lot of changes, and it has moved to offer services across a range of technologies including voice and cloud services. He says; "Value starts at understanding the customer and what their challenges are and then use the appropriate technology."
Keith Halford: where I have been involved has been in the internals of the business – getting the processes, cost base right, procurement right and more important getting the business processes sorted so they are as lean and mean as possible. "Getting the resource to do that is difficult. You don't want to be bringing in expensive sales people. You have to be sure, which is why we recommend using consultants for specific roles to get the right people at the right time."
Nigel Church: "Value in an MSP depends on the life stage of the MSP – when it is looking to be sold, it is different from when it is in growth mode. You really need to reflect on where you are in the evolution and have a plan. In growth mode, I have always been obsessed with growing monthly recurring margin – we have a goal to hit in recurring business. I know if I am to do that I have to find new customers and retain existing customers. To retain existing customers, I need to make sure my service delivery is correct and my invoice, and not too much fat in the business and that I am making best use of expensive individuals in the organisation."
"As you move through the plan and are in a position to dispose of the business, there is getting the contracts in shape, your management information is where it needs to be; there are some models on what increases value. And clearly take care of customers."
Keith Halford:  "Customers are becoming smarter and for smaller partners there is a challenge in broadening the profile to be a manager of managers. The commercial and operational sides have to be flexible enough to react, to say 'yes we can' whatever the question. We need more flexibility."
Nigel Church says the biggest challenge from customers is enablement because technology has moved on at such a pace that customers that MSPs traditionally serve they are struggling to keep up. "We need to allow them to take advantage of stuff they are already paying for perhaps in their O365 or for a small additional cost."
"How can MSPs keep up with the pace of change. It is almost sensory overload for customers," says Adam Clements. "The MSP's value is in distilling the message to something that is useful to the customer. This means soft skills as well as technology. Being able to deliver the meaning of technology, to have the right conversations – that is the biggest thing holding it back."
The next in the Managed Services Summit series in the European event in Amsterdam on 28 May 2020 Details here