Submitted by John Garratt on March 12, 2018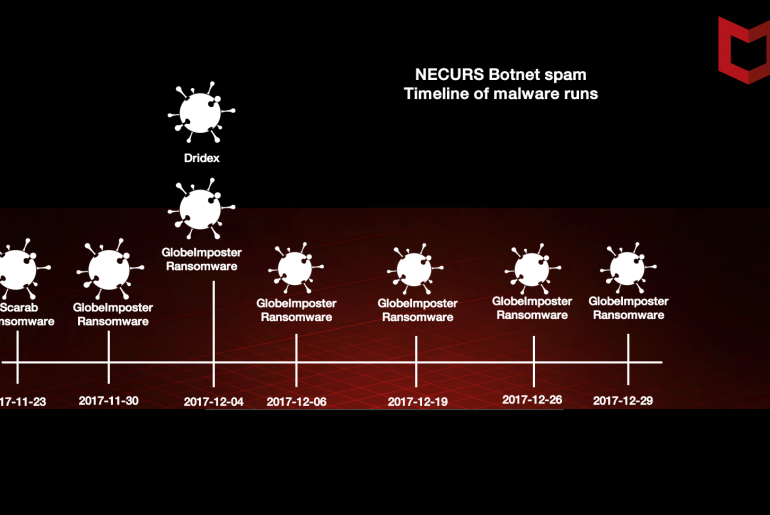 McAfee's quarterly Labs Threats Report has revealed the latest trends in cyber threat growth. Since last quarter, the amount of new cyber threats found every second has doubled, with McAfee Labs detecting 478 new cyber threats every minute or 8 every second.
The report takes a detailed look at the latest tactics employed by criminal groups, reporting a clear diversifying of strategy with a move from traditional money makers such as ransomware, to the practice of hijacking Bitcoin and Monero wallets.
Alongside this, the report reveals the extent to which the healthcare sector is under attack. McAfee Labs found a 211% surge in disclosed security incidents against the healthcare industry, with many incidents caused by organisational failure to comply with security best practices or address known vulnerabilities in medical software.
Additional key findings include:
Spam campaigns grew with 97% of spam botnet traffic in Q4 was driven by Necurs (below) – recent purveyor of "lonely girl" spam, pump-and-dump stock spam, and Lockey ransomware downloaders – and by Gamut – sender of job offer–themed phishing and money mule recruitment emails
Fileless malware leveraging Microsoft PowerShell grew 267% in Q4 2017
New ransomware grew 35%; ending 2017 with 59% growth year over year    
New mobile malware decreased by 35%; infection rates remain highest in Asia
New Mac OS malware samples increased by 24% in Q4; total Mac OS malware grew 243% in 2017

Comment from Stuart Taylor, UKI Regional Director, Channel, McAfee: "Cybercriminals are rapidly branching out to new attack techniques and tools, from fileless malware to cryptocurrency mining, to capture new revenue streams. Alongside these trends, we're seeing more instances of 'smoke and mirrors' tactics designed to hide another attack or the cybercriminals' intent. Customers faced with this increasingly thorny attack surface are carefully considering their risk position – creating a key opportunity for channel partners.