Submitted by John Garratt on May 31, 2019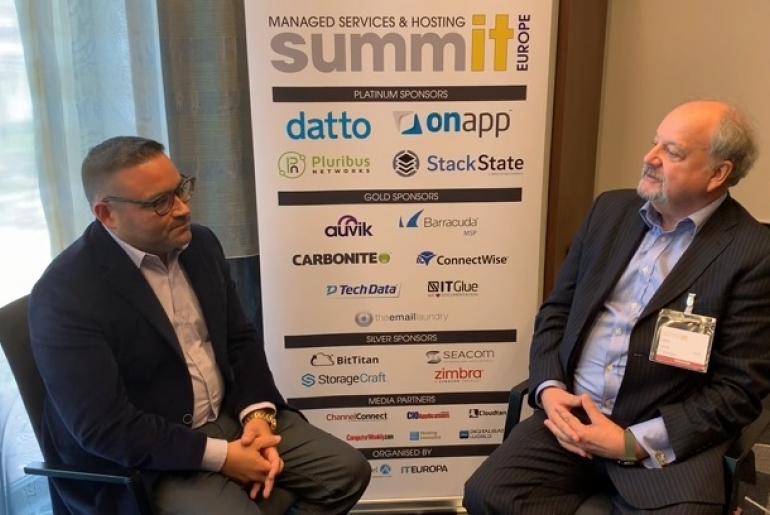 Eric Torres (left in picture), Datto's channel development manager talks with IT Europa's John Garratt on the changes in managed services in the last year….
ET I would say that the changes even date back prior to 12 months. But security is still number one. And the more that we hear about all the bad things happening, the more that security is at the forefront. And it's all about either being that security company or partnering with that security company. A lot of what we're seeing out there is that some of our partners don't necessarily want to be the security expert because that's all encompassing and you have to be on top of your game. They have things that they normally have to take care of outside of that.
So what they what we're seeing is specializations. The service providers, managed security service providers and our partners team up, saying we'll handle the network we'll handle IT and the infrastructure. We also have the second arm of our company that is the security part of it.
IT Europa:  We've heard about this increased level of specialisation so is that the sort of thing you're picking up here today?
ET Most definitely. And through all of my travels it comes down to those that know that specialisation and keep learning. and adding to it. They are already light years ahead of somebody like myself who wouldn't have that special expertise. So it does come down to people partnering with those specialized. providers.
IT Europa Does Europe needs to learn from elsewhere?
ET: I think it's the opposite. I definitely see different levels of managed and service providers based on the geographic location and how mature they are. We in America have a lot to learn from the European market specifically on just the compliance and regulations GDPR. It's been here for quite some time and we're looking at what's happening over here going OK.
IT Europa So MSPs may be having trouble keeping up with all these changes?
ET I would say so. And if you look at the typical managed service provider when they're starting out and then the newer ones: typically it's an engineer that broke off of what they were doing and started their own company and that engineer is now the security expert, the networking expert, the sales rep, the bookkeeper there. They're doing a lot of it. So yeah there is a bit of an overwhelming feeling and that's why it's up to us as vendors to provide them with. as much many tools and as much info that we can. Part of what we do at Datto is not just information. How do we position selling, and using our tools?
But I myself am just part of a whole series of education [facilities] from a standpoint of building a sales team building or an engineering team, coming up with the pricing model - things that your brand new MSP may not be aware of but vendors like us are saying 'we have ways to help you'.
IT Europa This was the week of the annual Datto MSP report which also keeps you busy
ET: In security, we always know is happening and think is happening but seeing the actual data behind the stats that's pretty frightening. One of the things when it comes to ransomware and the things that I see is just the evolution of it and how far outside of the box these bad guys are thinking and creating this this terrible thing to happen to IT networks.
They are far advanced and keeping us on our toes but are never going to be able to fully stop them. You have to have something in place that if it does happen to get through it. There's no shortage of these stories; everyday I'm reading a new one.
IT Europa: What can you do to help?
ET: I still think the biggest help for our partners is talking to other MSPs. It's one thing to talk to me, being a vendor and the other vendors that are here. But I want to talk to somebody else who's doing exactly what I'm doing. What's keeping them up at night? How are they protecting their clients? What kind of experiences have they gone through and even outside of that? There's enough business out there that. it's very much a family of people. This is the value of this movement. Anytime you can get your peers together you're talking and that's incredible value. And getting that many people in one room and then hearing us share our ideas with them, just creates more ideas and talks and discussions and then people take that back to their offices with them.