Submitted by John Garratt on April 4, 2019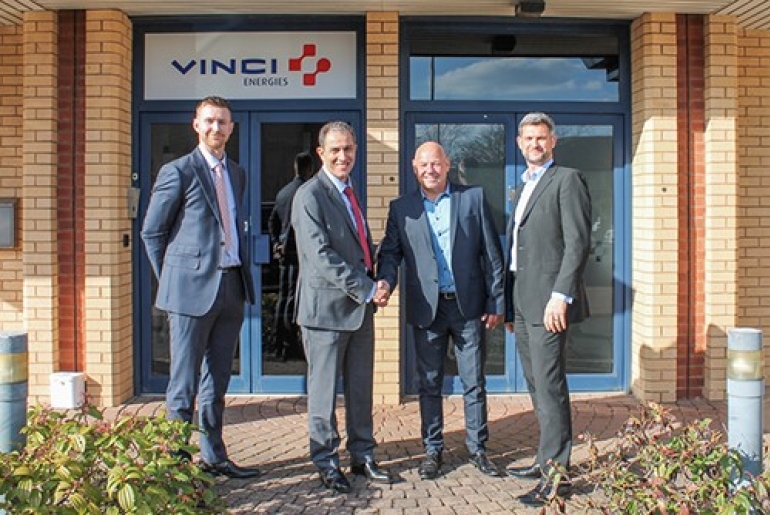 UK MSP Nouveau Solutions has been acquired by VINCI Energies UK & ROI through its ICT brand Axians. Axians provides network systems integration services across the UK and the Republic of Ireland.
Established over 25 years ago and based in Wokingham, Berkshire, south-east England, Nouveau Solutions serves a wide UK customer base and employs 35 staff, with an annual turnover of £7m.
Rochdi Ziyat (centre left in picture), chief executive officer of VINCI Energies UK & ROI, said: "Nouveau Solutions is a fantastic addition to the VINCI Energies group and marks another big milestone in our ambitious plan.
"VINCI Energies entered the UK's ICT market in 2014 and this latest acquisition will bolster the strengths of our Axians brand [which it acquired in 2014] and bring complementary capabilities to Axians, enabling us to make our customers' ICT solutions ready for their secure digital future."
Andy Stevens (centre right in picture), managing director of Nouveau Solutions, said: "VINCI Energies group's business model was a real attraction for us, giving us the ability to grow our company and use the strength of the Axians network of business units, both in the UK and across the globe.
"This is a tremendous opportunity for us to accelerate our efforts and at the same time retain our autonomy and culture so we can continue to deliver personal experience to our clients."
France-headquartered VINCI Energies group has annual revenues of €12.6bn, 77,500 staff, and 1,800 business units across 53 countries. Axians has sales of €2.3bn across 22 countries, with over 10,000 employees.