Submitted by John Garratt on September 16, 2020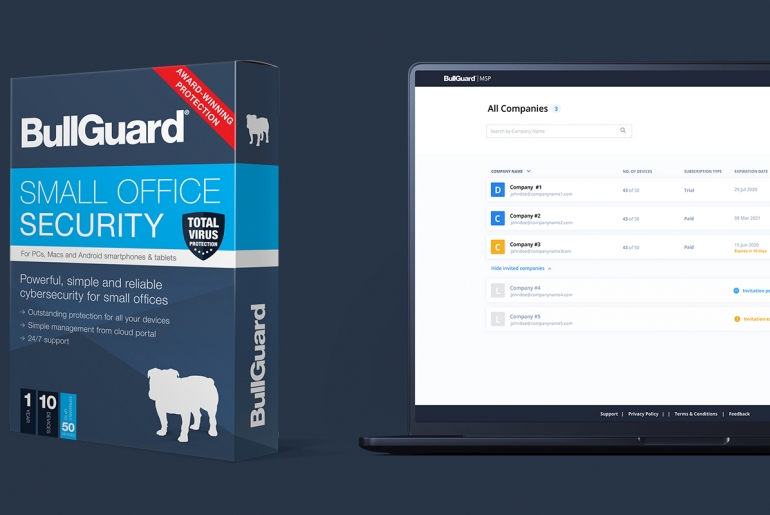 US-based BullGuard now has a new Managed Service Provider (MSP) functionality within its BullGuard Small Office Security product. The new MSP platform, which provides management of customer endpoint devices, offers revenue growth and customer expansion opportunities for both MSPs and IT resellers who want to move into service provision, it says.
The dedicated MSP functionality in BullGuard Small Office Security enables remote management of customer endpoint devices, including Windows, Androidand macOS devices, regardless of whether employees are in an office, working remotely or traveling. MSPs can set up new customers, with enrollment via an email invitation, while a centralised Cloud Admin Portal enables MSPs to manage multiple client accounts and all their endpoint devices within a single platform, it says.
The portal interface gives MSPs a 360-degree view of each of their clients' online security status. MSPs can deploy BullGuard Small Office Security on behalf of their clients and remotely carry out tasks such as activating and deactivating devices, scanning for threats, applying updates, or locking a device if it is lost or stolen. MSPs also receive real-time alerts about possible issues with devices, so they can react with lightning speed to resolve any problems and ensure their customers are kept safe, it says.
"At BullGuard, we understand the importance of our channel partners and their success, which is why we are committed to delivering comprehensive products that are attractive to their clients. We are always looking to open up new business opportunities that can generate additional revenue for partners and help them to expand and differentiate," said BullGuard Head of Global Sales, Steve Hicks.
"We launched BullGuard Small Office Security to provide our channel partners with a product that met the demands of the increasingly vulnerable SMB market. Now, more than ever, small businesses are under attack by cybercriminals who are taking advantage of the large-scale movement of employees working from home — many of them with their own devices. As a result, it is more important than ever for business owners to ensure their devices and networks are protected. With the new MSP functionality, our channel partners can extend their client support and meet the demand of small business owners who want to outsource their security so they can concentrate on the day-to-day running of their businesses. We are excited to deliver yet another opportunity for our partners to develop their business with the potential for notable revenue growth," Hicks concluded.