Submitted by John Garratt on April 14, 2016
IT Europa, the leading European IT publisher and market intelligence organisation, has announced the winners of the European IT & Software Excellence Awards 2016 - the pan-European awards event for ISVs, Solution Providers and Systems Integrators and their vendor and distributor partners. The finalists were honoured at a celebration dinner at the London Lancaster Hotel. More pics here.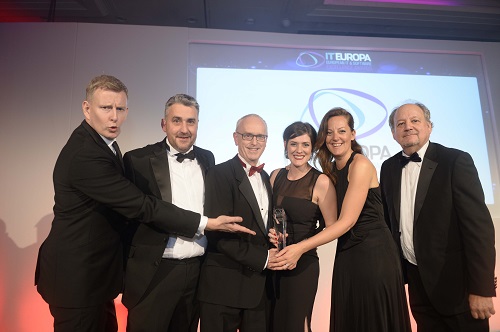 In their eighth year, the European IT & Software Excellence Awards attracted over 400 entries from more than 31 countries. A number of entries demonstrated how carefully the industry has been listening to its customers and building solutions that really do make a difference. The winners ranged from a low maintenance self-service web portal which became the standard national online platform for collecting structured data across all UK schools to a consultant's global mobile management system and a taxi service system in Paris. Winners were chosen from 86 finalists who representing 21 countries.
With so many high-scoring entries, choosing outright winners in each category was particularly hard this year, says judges' panel chair John Garratt, editor of IT Europa. "It is also fascinating to see how the entries reflect the changes in the industry; previous years have seen concentrations of cloud and then SaaS solutions; this year we have had many entries showing solutions based on data and its management and analysis. This shows how responsive the industry is, particularly among the software developers and ISVs who are so determined to deliver results for their customers. The awards show that there is a real case for considering IT as a success and encouraging even more investment in what it can offer."
A full list of winners follows:
Solution Provider categories
SME Solution of the Year: 123 Insight
Enterprise Solution of the Year: BearingPoint Software Solutions
Datacentre Solution of the Year: Brightsolid
Vertical Solution of the Year: ASPEKT
Public Sector and Utilities Solution of the Year: Schnell Solutions Limited
Managed Service Solution of the Year: SCC
Connected/Mobility Solution of the Year: SoftServe
Storage/Information Management Solution of the Year: Azeus Convene
Big Data, IoT or Analytics Solution of the Year: Tech Mahindra Ltd
Security Solution of the Year: Webroot
Customer Experience/Management Solution of the Year: Arcus Global
ISV Categories
Information & Document Management Solution of the Year: ICB-InterConsult Bulgaria Ltd
Big Data, IoT or Analytics Solution of the Year: ExtraHop
Connected/Mobility Application Solution of the Year: VMware AirWatch
Vertical Market Solution of the Year: Haulmont Technology
Government/Utilities Solution of the Year: INSOFT Development & Consulting
SaaS Solution of the Year: PureClarity
Software Innovation Solution of the Year: Fookes Software
Supplier Categories
Channel Programme of the Year: NaviSite Europe
Connected Technologies Provider of the Year: Arkessa
Finance/Support Services Provider of the Year: BNP Paribas Leasing Solutions
Security Vendor of the Year: AVG
Business Distributor of the Year: Wick Hill
Service Provider of the Year: Utilize Plc
Software Vendor of the Year: Panintelligence
Technology Provider of the Year: ShoreTel
Pics here 
About IT Europa
IT Europa is the leading provider of strategic business intelligence, news and analysis on the European IT marketplace and the primary channels that serve it. In addition to its news services, the company markets a range of database reports and organises European conferences and events for the IT and Telecoms sectors. For further details visit: www.iteuropa.com
For further information contact:
Alan Norman
Tel: +44 (0) 1895 454 604
Email: alan.norman@iteuropa.com