Submitted by lawrence on December 1, 2014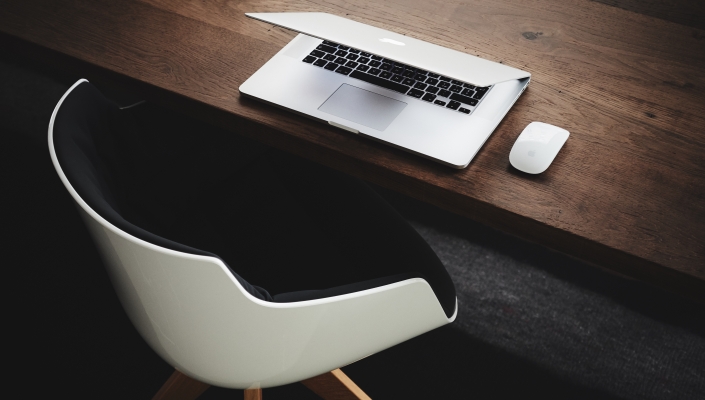 The software industry is under a lot of pressure, currently going through a phase where investments are higher than revenues as growth has slowed, says Bernard-Louis Roques, General Partner & co-Founder, Truffle Capital. Truffle has just published its list of the top 100 European software companies and it shows a lot of changes and movements of companies up and down the list. The total revenue is only slightly up on last year.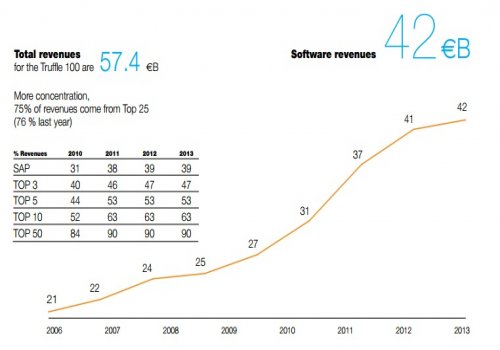 He tells IT Europa: "It looks like we are in a period of change for European software. European ISVs are facing a unique situation combining a major paradigm shift toward SaaS & cloud, with a slowdown (2.7% in growth, the weakest rate since the Truffle 100 was created) and pressure on investment capacity (R&D investments are higher than profits for the second year in a row).
Doesn't the cloud help smaller firms and start-ups? "The transition to SaaS is cumbersome and costly. It is not only a technological evolution, it is a change of business model. It has strong organizational consequences, not only technical on product roadmap, frequency of versioning, but also commercial on sales people incentives, customer pitches, marketing, and last but not least revenue recognition and cash collection. It is huge challenge. It is impossible for a traditional ISV to reinvent itself overnight in a predominantly SaaS company. The cloud transformation process is going to take years for most market players and not all of them will succeed. It is often more efficient to start from scratch a new SaaS startup than to "saasify" a traditional software vendor."
The paradigm shift also applies to resellers and channels. The nature of the services provided will evolve toward a more technical layer, he says. Resellers will typically be more involved in the technology, with more programming skills required, for example to very specific verticals.
Are there fast-growing emerging players, perhaps outside of the list who could get into the top 100 in their own right next year and are they in interesting areas such as analytics, Big Data, Social Media?
"Analytics and big data are going to be mainstream one day," he says. "We see fast growing companies throughout Europe which will soon make it to the Truffle 100, such as the DMP provider Makazi who just made its entry in the Truffle 100 this year, two years after its launch."
But this heavy investment requirement puts particular pressure on software companies. "How long
can they live with deficits, at a time when growth rates are decreasing drastically (+2% last year), and the industry is going through dramatic changes and paradigm shifts?" he asks.
In the software business, there is no other choice than to invest in the future, particularly now at the eve of the ineluctable transition towards Saas and mobile. Software vendors are by nature resolute optimists always committed to building the product of the future, determined to bring productivity and efficiency to the economy, and open new possibilities and experiences to consumers.
"It is the first time since 2006, when the Truffle 100 was first published, that European Software vendors are in such a high-risk situation: while they need more resources than they generate through their activity, their access to capital markets has significantly reduced. European stock markets have indeed shown a lack of appetite for technology companies in comparison with their US counterparts, and are not fuelling the industry as they used to (only 55 quoted companies today compared to 85 in 2007)."
More than ever, with rising global competition, radical paradigm shifts in business models & technology (SaaS & mobile), and price pressures, the European Software Industry deserves attention. Their call for the implementation of measures such as the Small Business Act (which has a positive budget impact and costs nothing to the governments), R&D tax breaks, or incentives for Venture Capital should not remain unheard, he argues.
This will one of the major concerns at the ISV Convention in March 2015, organised by IT Europa.
Now in its eighth year, the European ISV Convention has firmly established itself as the primary event for directors of Europe's most progressive ISVs.
The event is designed to set the agenda for the following 12 months and address the most pressing issues in the software industry. The unique format of the European ISV Convention gives delegates the chance to listen to industry experts give their views of the marketplace, join in panel discussions on those topics, meet with major vendors and service providers in boardroom style sessions, engage in one-to-one business meetings and network with industry peers.
The European ISV Convention 2015 will take place at the Lancaster London Hotel, London, on 25 March 2015. ISVs wishing to attend the convention and vendors, distributors or service providers interested in sponsorship opportunities can find further information at www.isvconvention.com
For further information contact:
Alan Norman
Tel: +44 (0) 1895 454 604
Email: alan.norman@iteuropa.com
or Stephen Osborne stephen.osborne@iteuropa.com +44 (0) 1895 454 536